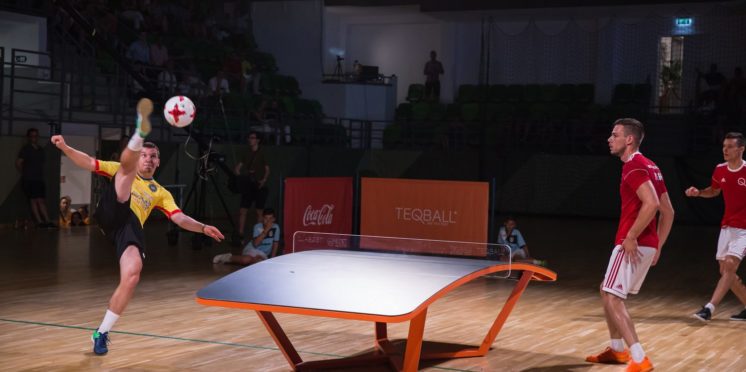 SECOND TEQBALL WORLD CUP TO SERVE UP SPARKLING ACTION IN REIMS
Wednesday 10th October 2018  
The second Teqball World Cup promises to be a Champagne moment for the fast-growing sport – with twice the number of countries competing than the first edition.
The Reims Sport Centre, France, will host some sparkling action between October 12-13 when 40 nations serve for glory in the singles and doubles formats.
Some 20 countries contested the first-ever Teqball World Cup in Budapest, the birthplace of the sport, in June 2017.
Underlining the pace at which Teqball is growing globally, double that number will be going for gold next month, when Hungary's Ádám Blázsovics defends his singles title alongside the Romanian doubles champions.
Teqball is a football-based sport which boasts several superstar fans – including Lionel Messi, Neymar and Luis Suarez. It is best described as a hybrid with table tennis played on a scientifically-designed curved table, called a Teqboard.
With France winning the 'football' World Cup in July, Gábor Borsányi, one of three Hungarian businessmen who co-founded the sport in 2015, believes Reims, the region famous for its fizz, is the ideal venue for the second Teqball World Cup.
Teqball's links with the country have been strengthened by the likes of 1998 World Cup and Euro 2000 winners Robert Pires and Christian Karembeu, and former Les Bleus defender William Gallas, being global ambassadors for the sport.
"We're really excited to be staging our second World Cup in France," said Borsányi, who came up with the Teqball concept.
"Having 40 countries competing shows how quickly the sport is growing globally. We're creating Teqball history.
"After staging the first World Cup in Hungary, we wanted to take the next one abroad. Reims is perfect, because France is the current capital of world football after winning the World Cup. It's a beautiful city and the mayor has been very supportive."
Borsányi is president of the Fédération Internationale de Teqball (FITEQ), the sport's governing body which is jointly organising the Teqball World Cup with the Teqball Federation of France.
Traditional footballing nations like Brazil, England, The Netherlands, Portugal and Spain were represented at the first World Cup. They will compete against the likes of the hosts, Hungary, Scotland, Wales, Northern Ireland, Japan, Albania, Romania, Serbia, Malta, Finland and Malaysia next month.
The 40 nations will be split into five qualification groups of eight nations, followed by a knockout stage that kick offs at the Round of 16.
FITEQ vice-president Viktor Huszár, also a Teqball co-founder, added: "We organised the first World Cup because there were Teqboards in around 20 countries and the Teqball community was pushing us for a global tournament.
"Because we've started to sell more and more Teqboards all over the world, the interest from other countries has rocketed and we now have 40 countries competing. The region in which Teqball came to being, Eastern Europe, has the strongest players at present, but this is the Teqball World Cup, so who knows what will happen?
"What's really positive for the long-term future of the sport is that more and more Teqball national associations are being set up and being officially recognised by FITEQ.
"We estimate there are 3,000-4,000 people playing Teqball worldwide. The fact we already have over 500,000 followers on social media underlines the growth and popularity of the sport, and it will only get bigger.
"Teqball is being played in at least 40 countries, but it could be a lot more. For example, a video popped up on social media recently of guys playing Teqball on a beach in Trinidad & Tobago. We were like 'how did that happen?!'"
Teqball has designs on becoming an Olympic Sport and took the first step to achieving this long-term goal in August when FITEQ, founded as recently as 2017, was officially recognised as a governing body by the Olympic Council of Asia's General Assembly in Jakarta.
Teqball's popularity has been fuelled by social media videos of superstar footballers – including Marcelo, Eden Hazard and Philippe Coutinho – playing the sport. The likes of Real Madrid, Manchester United, Chelsea, Arsenal and Ajax also own Teqboards, plus the national teams of France, Belgium, Brazil, England and Germany.
Teqboards are available to buy for home and leisure use. As well as being a fun game, it is the perfect training aid to improve a footballers' touch and technique. It can also improve fitness and aid rehabilitation.
---