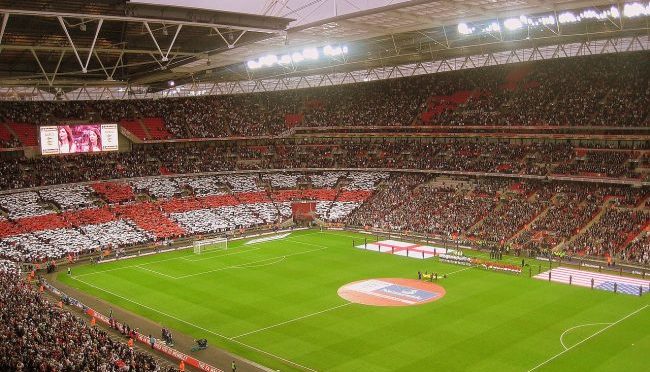 An Impressive and Undefeated October for all of England's Men's football teams
Thursday 18th October 2018  
Harry Cooper – UCFB Multimedia Sports Journalism Student 2018
The October international break proved to be a huge success for all England's men's teams from U17 onwards up to the seniors, with 13 matches played and no defeats. Within these 13 matches a total combined amount of 40 goals were scored and only 11 conceded.
Gareth Southgate's men had two tough opponents to play in Spain and World Cup runners up Croatia. Both of these games were away from Wembley Stadium and the results vital if the senior team want to win the newly found UEFA Nations League. After a fairly bland 0-0 in Rijeka, England stepped it up a gear three days later and saw of Spain in Sevilla after beating them 2-3 in which was a highly entertaining game. Raheem Sterling ended his international goal drought of three years after netting a brace in a terrific first half for the Lions which saw them three goals up at half time, with Marcus Rashford also getting on the score sheet.
The U21's had a great couple of days sealing their place at next year's UEFA European Championships in as they thrashed Andorra 7-0 and saw of Scotland's youth by two goals to nil. The Young Lions are not short of scoring goals at the moment and are demonstrating real signs of togetherness now being 35 games undefeated under Aidy Boothroyd. Manchester City starlet Phil Foden made his debut and looked promising in England's 7-0 thrashing against Andorra which saw them win their qualifying group with ease.
England's U20's had a thrilling couple of days after beating Italy 2-1 to secure their spot in the U20's European Championships, and then later defeating Czech Republic on penalties after a 1-1 draw.
The future of English football looks extremely bright and fashionable with goals flying in and European Championship places being secured. The U19's are proving not to be shy in front of goals as they managed ten goals in their two games against Portugal and Macedonia. Two impressive results in 1-4 and 6-2 shows of positive football being played. The U18's defeated Sweden 4-0 before being held at a 2-2 draw against Czech Republic's U18's days later. Lastly, the Youngest Lions made it three wins out of three as they managed to put three goals past USA, Russia and Brazil in a successful period of a days.
It looks like a good time to be an England football fan as the youth look to build upon their current success at tournaments and Gareth Southgate's men continue their impressive spell of International tournaments.
---