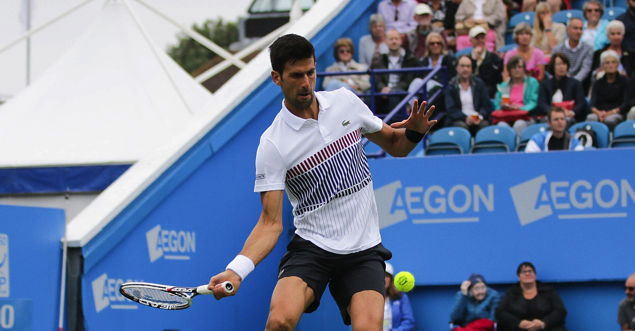 The Greatest Comeback In Tennis History?
Thursday 18th October 2018  
George Lancaster – UCFB Multimedia Sports Journalism Student 2018
At the start of the year Novak Djokovic was having surgery on his elbow not knowing when he was able to get back to his best. Having dropped down the rankings it was always going to be hard for him to get back to the top. However, as the Tennis season draws to a close, Djokovic is just one event win away from ending the year as World number 1.
As Novak returned to the court it was always going to take time for him to get back to his best, suffering a few early round exits from tournaments. The first real sign that he was edging closer to the Djokovic of old was when he reached the quarter finals of the French Open.
Next up was Wimbledon and a Grand Slam that Novak was familiar with; winning on three previous occasions. Playing like he had never been away he went on to win his fourth Wimbledon title against all the odds defeating Rafael Nadal on his way.
This would start an unbelievable run of him winning the next three out of four events; including another Grand Slam win in the US Open dropping just two sets throughout the whole tournament. He can also add winning the Laver Cup for Team Europe between all his singles achievements.
Djokovic is currently on an 18-match winning streak and is 27-1 since the start of Wimbledon. His recent success in the Shanghai Masters, where he didn't drop a single set, was his 32ndMasters title and he also has 72 ATP titles to his name.
Speaking recently about his comeback he said "It's phenomenal, I'm very proud of this as well as my team and I owe a great thanks to them and my family. Everyone that is on this road."
Currently at World Number 2, he is only one event win away from overtaking Rafael Nadal at Number 1. He can achieve this when he takes part in the Paris Masters, which begins on the 29thof October.
---