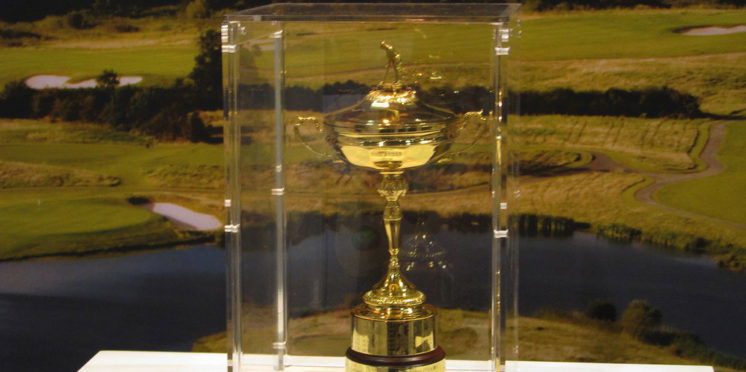 The Ryder Cup's Primordial Captain
Thursday 18th October 2018  
Toby Yates – UCFB Sports Business & Broadcasting student 2018
It's been just over a fortnight since the internationally recognised city of love and romance was transformed into the city of lion-hearts and reconciliation as Thomas Bjorn's European Ryder Cup team were victorious in re-claiming the trophy for the 4th time in the last five bouts.
The 17 ½ to 10 ½ result is the second largest margin the Cup has seen in 43 years, so it was only right that Rory McIlroy and Justin Rose sunk their weight in alcohol out of the historic cup, or Bjorn refusing to let go of his precious child even when going to bed. But as the heroes celebrated by lifting and drinking from the prize, little know the gentleman standing atop it.
Preparing for his swing, top hat perched on his head, the same way he does upon the silverware, is Abe Mitchell. Mitchell was a member of Royal Ashdown Forest Golf Club's Cantelupe Club, Forest Row, East Sussex. RAFGC is set upon the majestic Ashdown Forest and has a rich history dating back to it's founding in 1888. His legend status is championed in the traditional clubhouse alongside other club stalwarts such as Jack Rowe.
East Grinstead born Mitchell met Samuel Ryder at an event at Verulam Golf Club, St Albans, where a friendship was struck leading Ryder to hire Mitchell as his personal tutor. Ryder had been planning a match between Britain and America and in 1926 the first unofficial Ryder Cup was staged at Wentworth.
Mitchell was rampant; winning both his games, contributing to the convincing 13 ½ to 1 ½ demolition job. He went on to challenge American Walter Hagen to a 72-hole challenge match with £500 prize money. He lost due to some tactically astute psychological techniques by Hagen which infuriated Ryder so much he decided to place a model of Abe atop the Ryder Cup trophy in time for it's first official contest in 1927 at Worcester County Club, Massachusetts.
Ryder regarded Mitchell so highly that he named him as captain of the Great Britain team, but was inconveniently and untimely forced to miss it due to appendicitis, with GB consequently losing 9 ½ to 2 ½. After the heartbreak of missing the maiden match-up, Mitchell was influential in GB winning two of the next three matches.
---