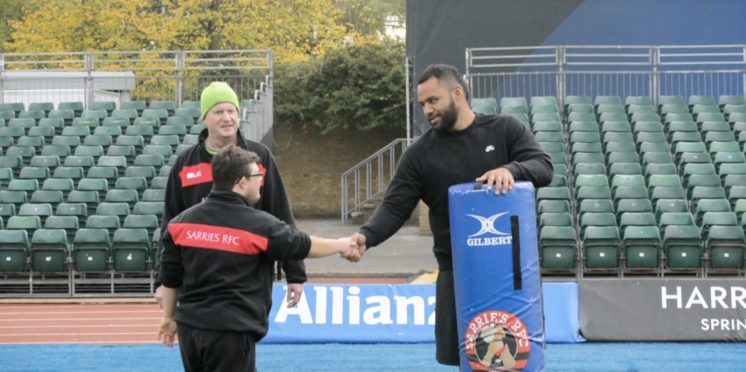 VUNIPOLA HELPS YOUNGSTERS WITH LEARNING DISABILITIES
Wednesday 24th October 2018  
The England number eight handed out medals at Allianz Park in Hendon after putting the youngsters through their paces during a Sarrie's RFC training.
Vunipola,25, who took part in the Sarries touch rugby programme said "It was fun. Obviously, there was a lot of accommodating for the kids. But it's always nice and enjoyable. I can tell they were still loving it, really enjoying it and they are very fond of me even though I've only been here twice!"
He added: "It's nice to see them always cheering. We talk a lot about personal space here, but I guess we live in a world now where everything kind of runs through social media. So, it's nice they don't care about those things – those barriers, it's quite refreshing.
"I think that's an amazing thing. If rugby can be a tool for that then that's probably more important than anything else. It just puts a smile on your face, how happy and honest they are and upfront. They have no filter and it makes you… I don't know, just happy!
Saracens, who are sponsored by local car dealership Alan Day Volkswagen, are at the forefront of a pioneering scheme to help young people with high functioning disabilities such as autism, down's syndrome and ADHD.
The popular programme, for up to 20 youngsters, is run by Benjamin Lawrence, the Sarries disability Sports Manager.
Each week members of Alan Day VW give up their time for free to help coach the youngsters on the Saracens' first team pitch, while parents and friends are able to watch from the stands and offered hospitality at the club
The group, aged between 15- 21, are shown how to use the tackle bags and encouraged to have a go at the crossbar challenge. Vunipola took part before breaking his arm.
Afterwards, delighted Paul Tanner, managing director of Alan Day said: "The boys were blown away that we got Billy Vunipola to join us. We had challenges involving the tackle bags, the crossbar challenge and we played tag rugby.
"We had a fantastic time and at the end of the night Billy awarded the boys with medals. It's all about effort, commitment and working with the team, the boys love it!
"A huge thank you to Billy and the Sarries RFC staff and volunteers, we are extremely proud to be involved in this inspiring programme."
Vunipola is not expected to play again in the Aviva Premiership until after Christmas.
---