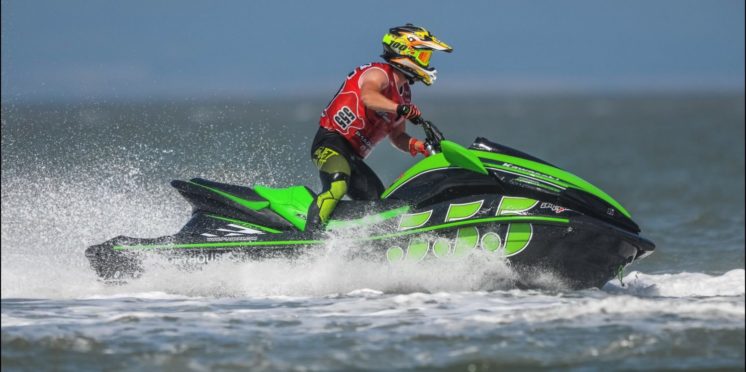 NEWBURY JET SKI RIDER TO TURN PRO AFTER EUROPEAN CHAMPIONSHIP SUCCESS
Thursday 1st November 2018  
The weekend of 20-21 October saw the P1 AquaX Euro Tour reach its finale in Port Balís near Barcelona and, after an outstanding season, it was Carl Lofthouse from Newbury in Berkshire who raced to victory. Carl was amongst more than seventy leading European riders who headed to Spain's Mediterranean coast to battle for titles in seven individual classes.
The jet ski racing series has visited venues across Western Europe over the last six months and Carl took the crown after winning nine of the twelve races. Speaking about becoming a European champion, he said:
"I've had a brilliant season and I'm really happy to have both AM 300 titles in the UK and now in Europe. It was tough going in Port Balís as there were some big waves, but I just needed to finish and clinching the European title is an unbelievable feeling. I went into this final event of the season with a 25-point lead in the 300 AM class and my focus was on not losing rather than thinking about winning."
The series' only deaf rider, Carl removes his cochlear implant which helps him hear when he's out on the water, meaning he is unable to hear as the other competitors approach. However, he certainly doesn't let this hold him back as 2018 has seen him progress from racing his former Yamaha VXR in the 200 AM class to mounting the Kawasaki ULTRA 310 in the 300 AM Class for the first time this year.
Now there is only one more step up the ladder for the 27-year-old amateur rider to make and that is to turn professional.
Before travelling to Spain for the final round of the championship, Carl shared his hopes for the 2019 season and his thoughts on becoming a professional rider, saying:
"I'm definitely going to join the professional ranks next year. In terms of my ride, I am planning to stick with the Kawasaki Ultra but upgrading it in line with the pro rules. Also, I will be putting in some serious training over the Winter so I can make my debut and really push the leading riders."
Carl's progression through the sport in such a short amount of time has not gone unnoticed. It has certainly captured the attention of Global Head of P1 AquaX, Lisa Barsby, who as a former British, European and World champion jet ski rider knows a thing or two about what it takes to succeed in the high-speed sport:
"It has been absolutely wonderful to see how far Carl has come in the sport. Many new amateurs take a while to make their mark as there are lots of talented riders, but Carl has shone through since day one and I think I can speak for everyone at P1 AquaX when I say that we wait in anticipation for his next step up!
---