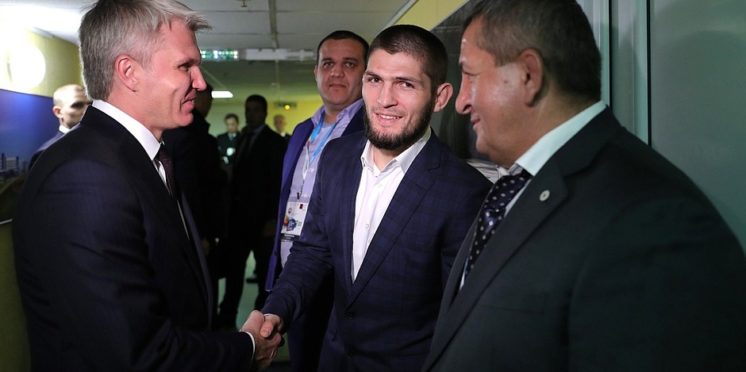 Wednesday 7th November 2018  
Asif Mohammed – UCFB Business and Media student
After a dominating win in his last fight, UFC star Khabib Nurmagomedov has certainly picked up
quite a lot of attention. But, mostly for the wrong reasons. The actions after his fight has raised a lot
of eyebrows and a lot of questions. Is there a future for the current champion? What options are
available for him? Will he retire undefeated?
Khabib "The eagle" Nurmagomedov won his anticipated bout against rival Conor McGregor at UFC
229. However, a few moments after the fight, things took a turn for the worst. The Russian jumped
out the octagon to attack a member of McGregor's team. Since then, Khabib has been indefinitely
suspended from the sport. A hearing has been scheduled in December to decide how long the
current lightweight champion will be suspended for.
Although the situation seems bad, the aftermath has opened quite a few opportunities for Khabib.
For one, the 30yr old has been offered a lucrative contract by 50 Cent on Instagram. The deal? To
join Bellator MMA, a seemingly substandard UFC competition. This is a very risky move for the UFC
star as it wouldn't help his career progression, moreover, it would benefit Bellator socially.
As well as this, the Russian has also been indirectly offered a chance to have a one-off showdown
with boxing great Floyd Mayweather. After seemingly adding the American to one of his Instagram
posts, it looks increasingly certain there is potential for another cross-sport event, like Mayweather
vs McGregor. In fact, talks for the event have already begun and have been confirmed by both
parties.
On the other hand, there are also rumours the Dagestan international could retire. UFC president
Dana White has reiterated Khabib could get a lengthy ban after his actions at UFC 229. This could
potentially mean "the eagle" enters early retirement and pursues a more local career, possibly as a
trainer. His uncle has also publicly spoken about this idea.
But the question on everyone's mind remains. What next for Khabib? It remains to be seen.
---