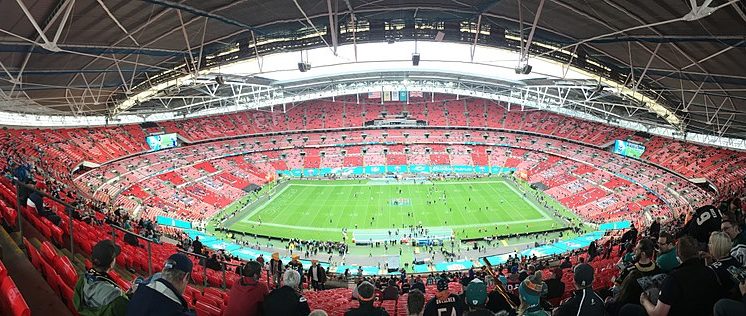 The Great American Sporting Invasion in London
Saturday 10 November 2018  
Myles McDevitt – UCFB Multimedia Sports Journalism Student 2018
America. Land of the free, home of the brave will be taking over the capital next year as their sporting pastimes of Baseball, American Football and Basketball are all set to be staged here in London.
The NFL will be back in 2019 and with four games similar to the agreement they had in 2017 when two games each were played at Wembley and Twickenham Stadium. Wembley will still host two matches but unlike 2017, Tottenham Hotspur Stadium when ready will also host two matches.
Jacksonville Jaguars are confirmed to come back to Wembley looking to bounce back from their loss here this year to Philadelphia Eagles. It will be intriguing to see, if the NFL sends over the three teams that haven't played a London game (Green Bay Packers,  Carolina Panthers and Houston Texans) given they targeted in getting all 32 NFL teams over by the end of this decade. A talk of a franchise might not happen as once hoped given Shahid Khan's purchase of Wembley didn't go through
The NBA  returns to London with the O2 Arena hosting New York Knicks against Washington Wizards. This is the Wizards first visit to the capital. The Knicks having visited twice before in 2013 and 2015 winning against the Detroit Pistons and losing against the Milwaukee Bucks.
With the NFL and NBA returning and drawing in large crowds, all eyes will be on London Stadium where it will be hosting Baseball. The MLB have scheduled a game on June 29 and 30 next year as Baseball is spread over two days and goes on for countless hours.
The match will be of huge interest as the Boston Red Sox and New York Yankees square off. Considered the greatest rivalry in baseball and similar to Manchester United v Liverpool in football, the MLB will hope that this game will be successful.
The signs look promising with a stadium that is fit for purpose and the fact that the Red Sox come to London as reigning World Series champions. There could be problems such as the weather which would result in the cancellation of the match but the MLB is building a strong base.
The UK is an attractive market for American Sports and it will be interesting to see how all the sports develop in the capital next year.
---