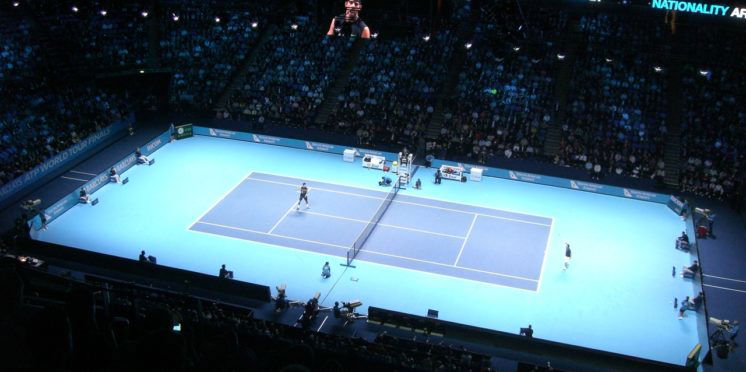 ATP World Tour Finals: The Ultimate Guide.
Monday 12th November 2018  
George Lancaster – UCFB Multimedia Sports Journalism Student 2018
The traditional ATP World Tour season ending tournament will take place at London's O2 Arena from the 11thto 18thof November. It will feature the top eight men's tennis players in the world.
The players who will take part are Novak Djokovic, Roger Federer, Kei Nishikori, Marin Cilic, Alexander Zverev, Kevin Anderson, Dominic Thiem and John Isner. The latter taking part due to the withdrawal of former World Number 1 Rafael Nadal through injury.
World Number 1 Djokovic will be aiming to end the year on a high by winning his sixth ATP title while Roger Federer, who is already a record six-time winner of the event, is seeking a 100thcareer title.
How does it work?
The players are split evenly into two different groups and battle it out for a place in the semi-finals. The format consists of every player playing three group matches, with the top two players from each group progressing through to the semi-finals then the final.
The two groups are as follow:
The Guga Kuerten group:
Novak Djokovic, Alexander Zverev, Marin Cilic and John Isner.
The Lleyton Hewitt group:
Roger Federer, Kevin Anderson, Dominic Thiem and Kei Nishikori.
Six-time winner Roger Federer believes World Number 1 Djokovic is the man to beat. He said "I prefer not to think about the 100th title before such a big tournament like London where players like Djokovic participate because he is the favourite."
It's not just the eight leading men's players taking part in the tournament, the world's leading men's doubles pairings will also be in action at the O2 Arena.
The winner will receive a huge six million pounds in prize money and will bring down the curtain on the 2018 tennis season. The tournament will be shown live on Sky Sports main arena/event and on the BBC.
---