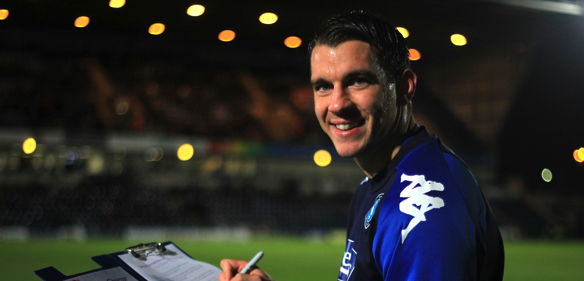 Is the One Club Player a Dying Breed?
Sunday 11th November 2018    
Toby Yates – UCFB Sports Business & Broadcasting student – 2018
Matt Bloomfield is Wycombe Wanderers' club captain, fan favourite and university degree graduate. 'Blooms' has featured in a record 450 EFL appearances for The Chairboys since joining from Ipswich in 2003, and is now underway in his 15th full season at the club. Speaking exclusively to students of UCFB Wembley on Tuesday 6th November ahead of Wycombe's EFL Trophy home tie against Oxford United; Matt Bloomfield describes being the last of a dying breed.
"A complete mixture of things" replies Matt Bloomfield when asked what his extended service at Adam's Park is attributed to. For an individual to stay at one club for so long, a plethora of factors seem natural. A highly achieving team? Wycombe can't boast this. Perhaps they're his boyhood club? Nope, he's an Ipswich fan.
Instead he explains: "I signed an 18 month contract and my intention was to come here for 18 months and then move back up again, I wanted to use this as a spring board to step back up." This is a natural thought process of a young professional who's just been released from the club they've supported since being a kid. What sets Bloomfield apart though, is professionalism and work ethic. Modern-day youth players are often criticised for the lack of desire and passion for the game and too much of an infatuation with money and fame.
A combination of enjoying his time under manager's such as John Gorman and Paul Lambert – where he signed new contracts under both – and injuries (he injured his anterior cruciate ligament and was sidelined for 9 months) has contributed significantly to time flying: "before you know it your 5, 6, 7, 8 years down the line and you become immersed in the club, and then you look to your testimonial like 'wow that would be amazing to do' and then you stay a bit longer".
In 2014 Bloomfield earned his testimonial and was able to welcome Jose Mourinho's Chelsea side after completing a decade at the club: "Before you know it your 15 years down the line"
"enjoy every season, before you know it, you'll blink your eyes and it's just gone." This is the reality that now faces 34 year old Bloomfield, who will hope that he has more to give to the club who are heading in the right direction following promotion last year- despite a hindering budget. Regardless of the future, however, he will always be known as 'Mr Wycombe' to Chairboy fans.
Full interview with Matt Bloomfield above.
---