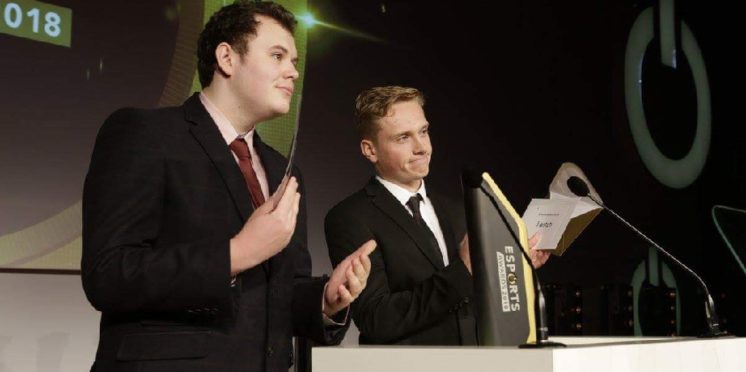 The Esports Awards 2018: Highlights From The Winners and Nominees of This Year's Event
Thursday 15th November 2018
Harry Frazer – UCFB Multimedia Sports Journalism Student
On Monday 12th November, the Esports Awards were held at The Brewery in London, as stars from the emerging sport took centre stage to highlight the year's achievements.
It was the third annual event as 23 awards were handed out this year, ranging from Breakthrough Game of the Year to Commercial Partner of the Year.
Over two million watched live on Twitter and it was also available on other platforms such as Youtube and Twitch.
It came of little surprise that Tyler 'Ninja' Blevins took home two awards as he continues his rise across esports, Blevins was able to pick up the Personality of the Year and Streamer of the Year awards, with most of his success down to him entertaining his 12 million+ followers through livestreams on the streaming platform Twitch, and his skill in popular video game Fortnite.
ESPN got the Coverage Website of the Year award, and their lead journalist Jacob Wolf was named Journalist of the Year. Having a big name like ESPN win this award is a huge plus for the sport in terms of recognition as it encourages other big companies to delve into the industry.
It was also a good night for fellow UCFB students Richard Buckley and Brandon Smith, who were nominated for Esports Broadcaster of the Year. The UCFB Etihad students were nominated alongside commentators such as Alex 'Goldenboy' Mendez (Call of Duty, Halo and Overwatch) and eventual winner Clint Evans 'Maven' (Call of Duty).
Buckley and Smith both commentate on high-profile FIFA esports tournaments and being nominated is a huge step for them in the industry, and Buckley felt it was a huge honour to even be nominated;
"It was incredible to be nominated among so many other fantastic commentators and to be in the same category as those guys, is fantastic for both mine and Brandon's profile.
When asked who he put their success down to, Buckley continued;
"We have to credit FIFA for getting us involved, EA Sports, Dean Coombes and most importantly Digital Sports Management for having faith and backing us.
The future looks bright for these two, and Buckley would finish with:
"We want to be involved in this industry for the rest of our lives so this is something just along the path for us."
The awards were also a charitable night, with guests donating to Movember (a charity dedicated to men's health), who are setting up a fund for gaming, with details of this set to emerge in the coming months.
The night was a success, and it can only get bigger as the industry grows larger.
Featured photo c/o @Alstxr on Twitter
---