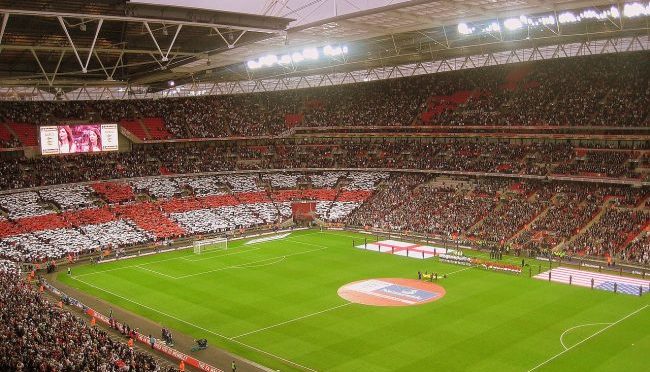 England vs Croatia – Revenge with Reward!
Saturday 17th November 2018  
Harry Cooper – UCFB Multimedia Sports Journalism Student 2018
After Thursday night's comfortable 3-0 win against USA in Wayne Rooney's last ever England game, The Lions look on to welcoming Croatia to Wembley Stadium this Sunday in their last UEFA Nations League group stage match.
This game has more to it than meets the eye and is definitely one not to miss. The two teams will battle it out for a last ditch attempt to win the fourth group in league one as it literally comes down to winner takes all. A Golden Goal perhaps. While one could rise to the top of the group, the other will fall and face relegation for the next UEFA Nations League competition. The group is that tight that each team in it could be fluctuating throughout the game. The Spanish will also be watching intensely as a draw will see them remain top and qualify for the knockouts next Summer.
The English and Croatians have always seemed to provide goals when playing each other, (apart from the previous meeting which ended 0-0) and more is to be expected come Sunday. Croatia's last visit to Wembley saw them on the back of a 5-1 defeat during the 2010 South Africa World Cup Qualifiers, with a goal from Rooney and a brace for both Frank Lampard and Steven Gerrard. This time round it will be different. The players, the atmosphere and the occasion, it's all very different.
Gareth Southgate and his team will be chomping at the bit to get the result they need on Sunday, as they seek to get their revenge on this year's World Cup finalists. I'm sure I don't need to remind you of Croatia's road to the final in Moscow last Summer; as hearts of the English nation were broken by Mario Mandzukic on July 11th. A goal that many would feel wasn't in the script that day. But now there is a chance of payback, 90 minutes to prove to everyone that England do have it in them. To turn up and perform when it matters most.
Many have questioned this new Nations League tournament over the past months and have written it off as a pointless and confusing competition. But let me tell you what it has to offer and just how beneficial it could be:
As a starting point, teams are seeded and then drawn to face appropriate nations of the same level as themselves, giving them more of a test when it comes down to playing, rather than coming up against countries that will see results being cricket scores.
It turns boring old friendlies into something competitive and worth watching for the fans. Admittedly no fan likes a friendly game, its why pre-season is such a drag! With this new tournament in place, it gives the fans something new to enjoy. A third international tournament with a bit of silverware on the line.
For the youngsters breaking into their countries first team, it gives them a proper insight of how international football is played and the pressure of facing the big stage.
The tournament will provide four teams an extra opportunity to qualify for EURO 2020. One team from each league will benefit from this privilege at the end of the tournament via a play off game. More information on this can be found at: https://www.uefa.com/uefanationsleague/news/newsid=2079553.html
As it all comes down to the final game on Sunday, Southgate will feel he has the advantage over opposing manager Zlatko Dalic as many of his first team players didn't feature last night. The likes of Harry Kane and Raheem Sterling were rested ahead of this clash. Whereas Croatia fielded a very strong team as they beat Spain 3-2 in dramatic fashion. Left back Tin Jedvaj's 93rd minute winner and second goal of the game, has kept his country in this tournament and has only made this upcoming fixture more tasty.
---