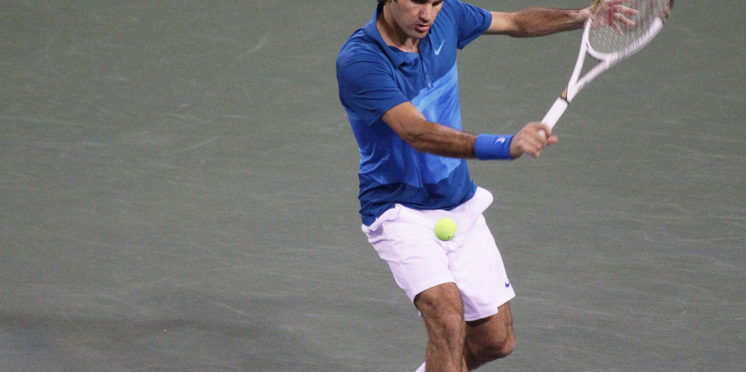 Roger Federer's 100th Title Still Beckons
Sunday 18th November 2018    
Toby Yates – UCFB Sports Business & Broadcasting student – 2018
Roger Federer is one of the most recognisable athletes of the modern era – and with good reason. The Godfather of tennis has sculpted one of the most decorated and glittering careers of any sport, triumphing in 99 individual titles – only American Jimmy Connors has won more in tennis. However, he was on the receiving end of a shock yesterday.
Federer will now have to wait until 2019 to complete the century. Yesterday, he was beaten by young German Alexander Zverev 7-5 7-6 (7-5) to set up the final today with Serbian Novak Djokovic after he beat Kevin Anderson 6-2 6-2 in the other semi-final.
"I won't let that get to my head" the Swiss answered in typical nonchalant and professional style when asked about reaching 100 titles ahead of his semi. He already holds the record for most individual Grand Slam men's singles Championships with 20 titles; and holds both records for longest period time spent as world number one (302 weeks) and oldest holder of number one ranking status (36 years old).
"Personally I'm still not thinking of the number 100." Said the 37 year-old, after he surprisingly lost his opening match against Kei Nishikori – but swiftly returned to form, beating Dominic Thiem and Kevin Anderson in straight sets.
"I won't let it make me go crazy because it should be something I'm excited about and not something I should feel extra pressure." In hindsight, could this really have been a contributing factor to the surprising defeat?
Zverev, who is hotly tipped to be a future Grand Slam winner, was booed following his victory after he legitimately stopped a point in the tie-break when a ballboy dropped a ball. He said "I apologised to Roger at the net already, he said it is OK and it is in the rules." This poignantly displays Federer's popularity despite having not broken a rule.
Sue Barker said she was "quite embarrassed" by the crowd and Tim Henman branded it "disappointing" and said "Once Federer understood what had happened, he accepted it."
Twice now during November of this year, world number three Federer has failed to secure the triple figure title after he sealed his 99th on home soil in Basel. At 37, time isn't on his side but the fact that he's already won four titles this year will give him cause for optimism – as if he needed it.
---