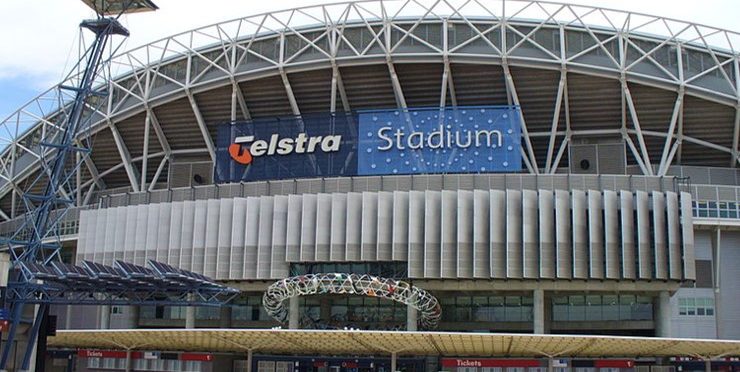 A Tribute To Ian Robertson
Saturday 24 November 2018  
Myles McDevitt – UCFB Multimedia Sports Journalism Student 2018
This Saturday, England will round of the year with a heavyweight clash against Australia. Whilst it will be a highly charged affair, it is also tinged with sadness as BBC Radio 5 Live Commentator Ian Robertson will hang up his mic after the game at the age of 73.
Robertson's finest hour came 15 years ago this week in the same fixture, the 2003 Rugby World Cup Final. With the scores tied at 17 apiece, England surged forward to create a winning chance. Jonny Wilkinson's right foot drop kick sent England Rugby fans into paradise and Robertson's commentary on that day was unique. You could almost feel the tension as his voice lifted to the moment that drop goal went over giving English Sport their most defining victory since 1966.
Robertson's journey into broadcasting started in 1972 where he was mentored under the legendary Bill McLaren. He was a promising young player playing fly half and representing Cambridge, Scotland, London Scottish and Barbarians. However, a serious knee injury forced him to retirement at 25.
He had another job teaching English at Fettes College. One of his pupils included a certain Tony Blair who this week thanked him for preparing him for as he rose to become Prime Minister. Blair saying that he felt privileged to be taught by him.
In April 1983, Robertson then became the BBC's Rugby Union Correspondent and has seen some memorable games. The two games that sticks in his mind are Scotland's Grand Slam wins in 1984 and 1990 memorably against England. He commentated on countless Five and Six Nations, many club games including Premiership and European Cup finals plus eight Rugby World Cups.
He also managed to interview former South African President Nelson Mandela in 1992 at an event where the press was banned and has mixed with Hollywood Royalty in Elizabeth Taylor.
This year has seen Robertson commentate on his final Calcutta Cup match where Scotland walked all over England at Murrayfield. This Saturday the curtain comes down on one of the most memorable careers in Sports Broadcasting. Let's hope that he can deliver stirring commentary as he always does to match that one 15 years ago at the Telstra Stadium in Sydney.
Happy Retirement to Ian Robertson, One of the finest broadcasters to have ever graced the airwaves.Rugby has been grateful to have you.
---