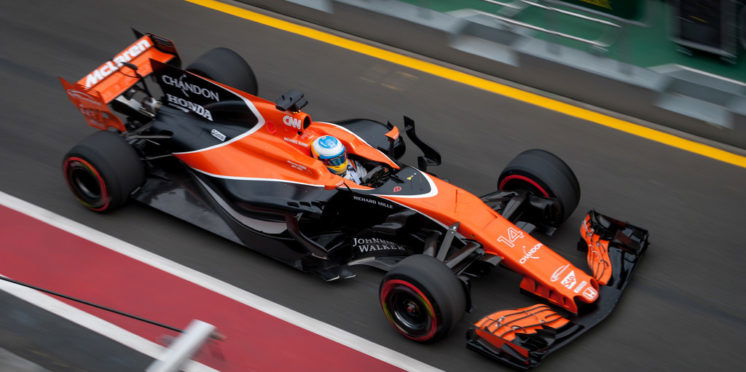 Monday 26th November 2018  
George Lancaster – UCFB Multimedia Sports Journalism Student 2018
Fernando Alonso has driven his last race in Formula 1 as he retires after 17 years. Alonso will go down as an F1 legend after his two consecutive World Championship wins. He also won 32 races, finished on the podium 97 times and took 22 pole positions.
After joining his debut team Renault, Alonso was tipped to take over Michael Schumacher's current reign in F1. At the time Alonso became the youngest driver in F1 history to achieve a pole position and a race win, achieving both in his maiden season.
In his third season in F1, Fernando took his first World Championship ending Schumacher's five-year dominance. At the time, he became the youngest ever drivers champion at the age of 24.
In 2006 Alonso was unstoppable; becoming the first driver in F1 history to finish first or second in the first nine races of a season. This form continued throughout the season leading to an epic rivalry with Schumacher, which eventually saw Alonso come out to win back to back World Championships. The youngest double champion in F1 history.
Alonso then went on to drive for Ferrari, unfortunately the success from Renault didn't follow. He finished second in the World Championship three times throughout his period at Ferrari, losing one title battle by one point.
The frustration didn't stop there as he was never to win a World Championship again. He moved from Ferrari to McLaren, which saw him never win a race or make it on the podium. He finished his F1 career at McLaren racing in his last race at Abu Dhabi in 2018.
Five-time World Champion Lewis Hamilton had this to say "Fernando is a true legend. It's been a real honour and privilege to race in the same era as him. The sport will miss him, we will miss him."
Fernando Alonso will always be remembered as a double World Champion but there is a sense around F1 of what could have been for the Spaniard.
---