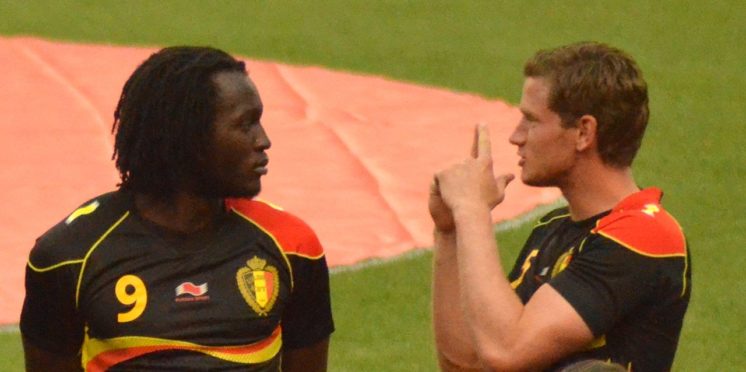 REVEALING ROMELU LUKAKU ON POOR FORM AND MOURINHO
Tuesday 27th November 2018    
Gabriel Anderson – UCFB Sports Business & Broadcasting student 2018
It's safe to say that Belgian international and Manchester United Striker Romelu Lukaku has been struggling on the field since the beginning of the 2018/19 season. In 2018 Lukaku has only scored 4 goals in the last 16 games for Man United, his last goal dating back to September against Watford and his last goal at Old Trafford dating back to March against Swansea. With his sharp decline and being dropped from the United starting eleven, it's brought many fans and pundits to question Lukaku's ability to play at one of biggest stages of club football.
Both on social media and on television, every Lukaku performance is criticised down to its finest detail, which is to be expected when you play for one of the biggest clubs in the world. Last season, the Striker scored 25 goals in all competitions and looked very comfortable in his first season. Coupled with rumours of the manager Jose Mourinho's poor job security and relationship with the squad, everyone wants to know what's going on the red side of Manchester?
In a raw and exclusive home interview with Bleacher report the Striker revealed information on his relationship with his manager:
"When [the manager dropped me] I was like 'oh s*** it happened', it's been a long year also with the world cup I felt tired".
"I would go through a brick wall for [Jose Mourinho], and he knows that. He would tell you how it is and if you can't deal with that that's a big problem" "If he has an argument with someone deal with it. You're a grown a** man".
In regards to his on field performance the striker had words for his critics, even club legend and TV pundit Paul Scholes:"
"[My First touch] is something you have to work on every day. [On his physic] That's BS in one of the strongest players in the league and I never get injured what's the problem?"
"When I see [Paul Scholes] before the TV he shakes my hand and it's no problem… I don't really care"
It's clear that Lukaku still has all the confidence to regain his form and become a feared finisher for his club.  As long as he has opportunity and backing from his manager, that's all that he needs to perform.
---