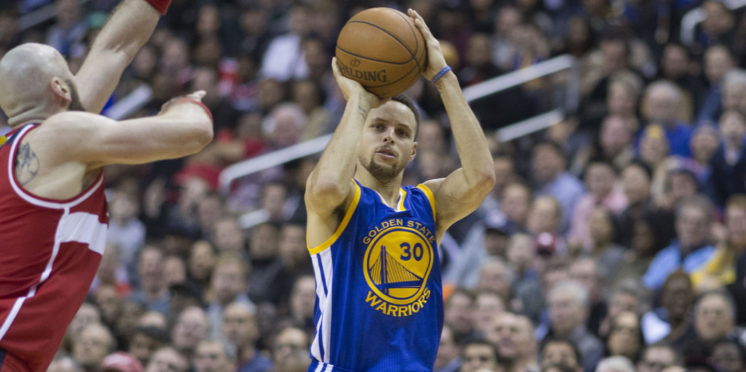 NBA star Curry supports girl in quest for his trainers
Friday 30th November 2018
Tom Hardy – UCFB Sports Business & Media student 2018
NBA star Stephen Curry, of the Golden State Warriors, has responded to a nine-year-old's request for shoes to be available to girls as well as boys.
Riley Morrison, from California, grew frustrated when trying to purchase a pair of Curry 5's in her size, only finding them in boys. She decided to go straight to the source, penning a letter to the three-time NBA champion explaining her issue.
The letters read "my dad and I visited the Under Armour website and were disappointed to see that there were no Curry 5's for sale under the girls section". "However, they did have them for sale under the boy's section, even to customize. I know you support girl athletes because you have two daughters and you host an all girls basketball camp. I hope you can work with Under Armour to change this because girls want to rock the Curry 5's too."
Curry, who has two daughters himself, Riley (six) and Ryan (three), tweeted back his response yesterday, explaining the issue has now been resolved on the Under Armour website where the trainers are stocked.
Riley's father, Chris tweeted back "Thank you @StephenCurry30 you just made one little girl so happy".
On top of this, the all-star has sent Riley the pair she originally wanted as well as some new Curry 6's which are yet to be released. The two-time NBA MVP has also invited Riley's family to come to a Warriors game against the Denver Nuggets on March 8th, International Woman's day.
Curry has been known to be an advocate of women's rights, writing a passionate essay for the players tribune in August explaining his views on the gender pay gap and the world he wants his two daughters to grow up in.
Curry has been out with a groin injury since November 8th and will be hoping to get back on the court soon to help his team, who currently sit in third in the Western Conference with a record of 15-8.
---