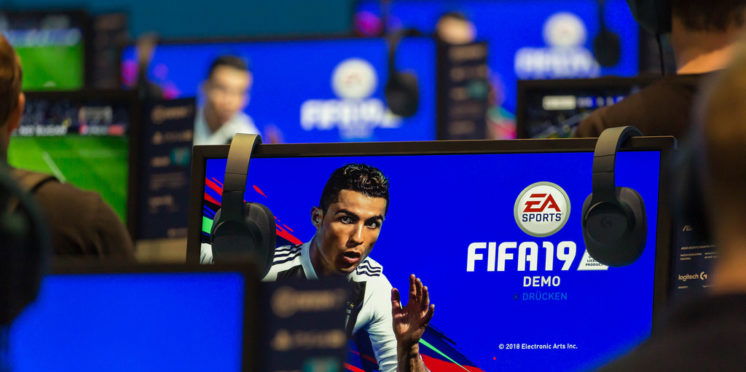 Young British Pro FIFA Player F2Tekkz Wins First Tournament of FIFA 19
Thursday 6th December 2018
Harry Frazer – Multimedia Sports Journalism Student
It was the first FIFA 19 FUT Champions tournament of the year on Sunday 2nd December and young player F2Tekkz (formerly known as DHTekkz) came out as the first winner of the year.
The 17-year-old won the first FUT Champions tournament of FIFA 19 in Bucharest, Romania. The 'boy wonder' lost only once during the tournament as he overcame American Joksan in the Grand Final which saw him take home $50,000 (just under £40,000).
The FUT Champions tournament was held over three days in Romania as some of the best FIFA players gathered to win not only the prize money, but also to get Global Series Points which are used to qualify for the biggest FIFA tournament of the year, the FIFA eWorld Cup 2019.
The young man started the tournament well, losing once on the opening day to 'proownez', but went onto beat four others, including one of FIFA.com's player to watch, MegaBit98.
On day two, F2Tekkz went unbeaten as he won the Xbox Final against Ajax's esports player 'Ajax Dani' and would qualify for the Grand Final on the third and final day.
His opponent was PlayStation winner Joksan, who had lost twice in the tournament but pushed on to get himself into the final. However, Joksan fell short as he was crushed by F2Tekkz 7-1 over two legs.
Joksan was gracious in defeat, tweeting (Joksan's Twitter) after the Grand Final;
"I'm just hoping NOBODY put money on me in the Grand Final… jokes aside I'm absolutely amazed by my performance back to back PS4 Champion and one step closer to the FeWC Grand Final. Gg @F2Tekkz what an amazing player and person.. see you in London in 2 weeks."
After winning his second title, F2Tekkz also tweeted (F2Tekkz Twitter) after the Grand Final saying;
"Honestly the feeling is surreal."
This is not the first time that F2Tekkz has won a FIFA tournament, back in 2017, the Englishman won his first FUT Champions Cup in Barcelona, when he beat Argentinian Nicolas 'nicolas99fc' Villalba at the age of 16 when he was known as DHTekkz.
Since then, his Twitter following grew massively as his account has now grown to over 75,000 followers, and he was also picked up by freestyle football Youtubers, the F2 Freestylers (Billy Wingrove and Jeremy Lynch) to be their FIFA esports player.
F2Tekkz will now be preparing as he and the other FIFA players will go to London for the second FUT Champions Cup from the 14th-16th December.
---