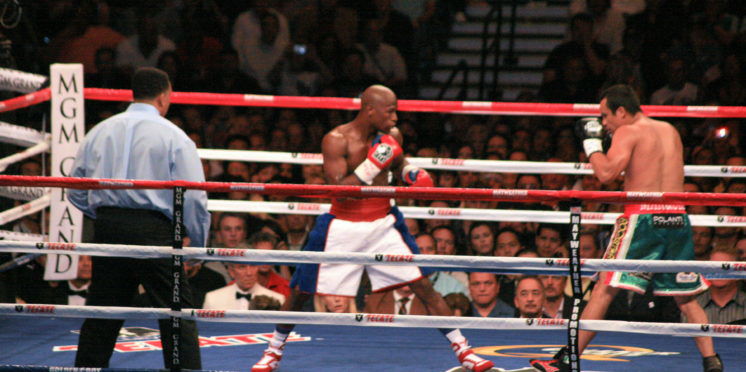 Floyd Mayweather agrees to Japan exhibition bout
Friday 7th December 2018
Tom Hardy – UCFB Sports Business & Media student 2018
Floyd Mayweather has announced he will fight 20-year-old Tenshin Nasukawa in Japan on New Year's Eve in a show promoted by Japanese company RIZIN.
The announcement comes around a month after the former five-weight world champion refuted claims that the fight was going ahead, suggesting in an Instagram post, which has since been deleted, that his team "were completely derailed" over details of the fight.
His opponent is a rising kick-boxing star in Japan, earning acclaim through his impressive victories which has seen him amass a record of 28 victories without defeat (21 KO).
This will of course be strictly a boxing match, with Mayweather not risking his reputation participating in any other discipline and as it's only an exhibition fight, the bout will have no repercussion on Mayweather's record of 50-0 (27 KO).
There is a case that taking fights such as this, alongside the Conor McGregor bout, somewhat damages the American's reputation as one of the all-time greats, often seeking financial reward over personal achievement.
Mayweather, now 41 has not stepped into the ring since that victory over the Irish UFC star in August 2017 and will be looking to humble yet another opponent, this time in a nine-minute, three round fight.
The fight will feature no judges and therefore may feature no decision after those three rounds with the two men agreeing to a 147lbs weight limit.
The bizarre format has been criticised in the world of boxing with Amir Khan stating that the exhibition was "bad for boxing". Khan almost faced Mayweather back in 2014 and reciprocated the feelings of many, as the UFC and MMA continue to grow and rival boxing.
We will wait to see the result of the this extraordinary bout as Nasukawa looks to pull off an unlikely victory against the seasoned pro Mayweather.
---