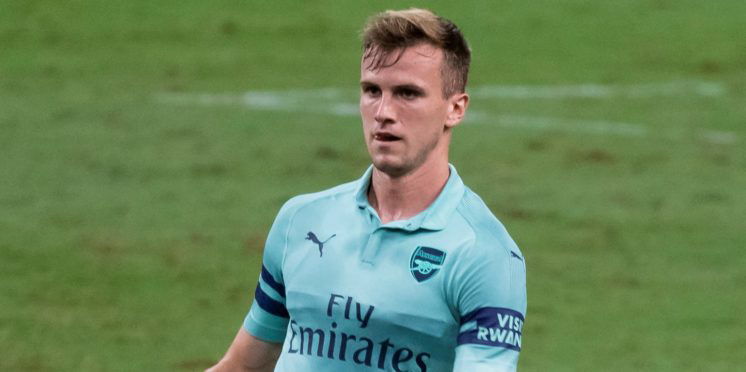 NINE MONTHS OUT! Arsenal's Rob Holding season is finished with Anterior Cruciate Ligament injury
John Jones – UCFB Multimedia Sports Journalism 2018
Saturday 8th December 2018
Arsenal revealed that central defender Rob Holding will miss the remainder of the season after Wednesday's 2-2 draw with Manchester United. In the first half of the game the English defender was on the end of a tackle from fellow country man Marcus Rashford causing Holding to be forced off on a stretcher through injury after receiving lengthy treatment from the medical staff.
Holding was enjoying a positive time in the side gaining plenty of minutes and a good run of form. The 23-year-old had forced his way into Unai Emery's side playing alongside Shkodran Mustafi when new Greek signing Sokratis Papastathopoulos had picked up an injury earlier in the season with experienced French defender Laurent Koscienly already suffering from a lengthy injury setback. When the Greek defender had returned from injury, he did not go straight back into the side showing the new trust and faith the manager had in the young English centre back. Holding has featured ten times in the league this season receiving only one yellow card proving his discipline within the Arsenal defence. The defender has a 64% tackle success winning 21 out of 30 aerial battles (Premierleague.com) becoming an integral part to Arsenal's current unbeaten run which stands at 20 games.
The anterior cruciate ligament injury known as an ACL injury is unfortunately common in football and is not the first time it has happened within the game with many players having this injury before. Holding has suffered a ruptured ACL in his left knee which requires the defender to have surgery and rehabilitation to work towards becoming fit and strong again to play football. "The ACL is a tough band of tissue that joins the thigh bone to the shin bone at the knee joint, it gives the knee stability and helps controls the back and forth movement of the lower leg." (NHS.com)
The recovery process can't be rushed as it needs time to heal properly which is why Arsenal have revealed it will be nine months out to recover completely. Luckily for Holding his age will most likely play a factor as he is only 23 years old and being a professional athlete will benefit his recovery compared to someone who is older and not involved in sport. Arsenal are a world class team with world class facilities and have dealt with this injury many times before as former player Theo Walcott suffered this injury back in 2014 famously reminding Tottenham fans what the score was as he was being stretchered off.
Holding should look back on previous players who have suffered this injury to keep positive and that he can return and come back stronger. For example, Bournemouth striker Callum Wilson had this injury in both his left and right knee and struggled to know if he could play again. Fast forward to now and Wilson just received his first international call up in the recent internationals taking part and scoring against USA at Wembley.
We wish Holding all the best in his recovery and hope he is back playing as soon as possible.
Links:
https://www.premierleague.com/players/11575/Rob-Holding/stats?co=1&se=210
https://www.nhs.uk/conditions/knee-ligament-surgery/
---