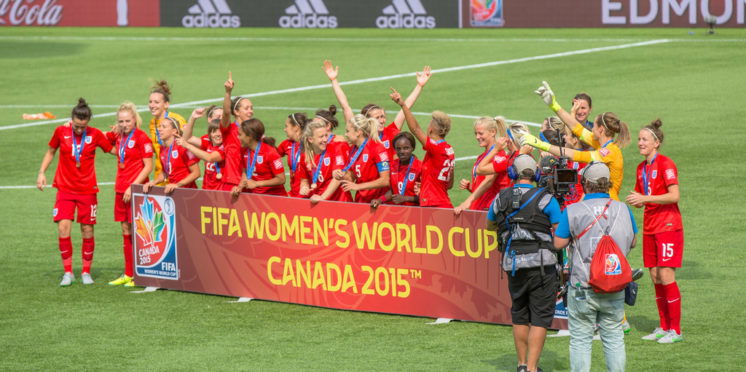 England Draw Scotland in Group D of Women's World Cup 2019
Sunday 9th December 2018    
Toby Yates – UCFB Sports Business & Broadcasting student – 2018
The draw for the Women's World Cup 2019 in France has pitted England against Scotland in Group D.
The oldest rivalry in football is still alive and will be prolonged on June 9th 2019 when England and Scotland battle once more on the opening day of the eighth Woman's World Cup.
Japan – who were winners in 2011 and runners-up in 2015 – and Argentina complete Group D which represents a sizeable opportunity for the ever improving Lioness' to progress past the group stages.
England, under former manager Mark Sampson, defied many in 2015 with a collection of astounding performances carrying them to the Semi-Finals, cruelly crashing out to Japan (with the unfortunate help of THAT own goal).
Scotland, however, are debuting in the World Cup after emulating on their Women's European Championship 2017 baptism. The two sides were matched together in Group D then as well, with England devastating Scotland 6-0 in Utrecht.
"Both sets of players know each other inside out," England head coach Phil Neville explained.
"There are three brilliant games but the first one is obviously the mouth-watering one because it's against our nearest rivals."
2019's tournament marks The Lioness' fifth World Cup appearance and they continue to go from strength-to-strength, rising to fourth ranking in the world; four places above former educator's Japan.
Scotland continue to improve too – finishing top of their qualifying group, two points ahead of second placed Switzerland.
"I know everyone will talk about the Euros but we have to focus on the group as a whole," said Scotland head coach Shelley Kerr.
2015 winners USA begin their defence against Thailand on the opening day, with Sweden and Chile joining them in Group F.
---