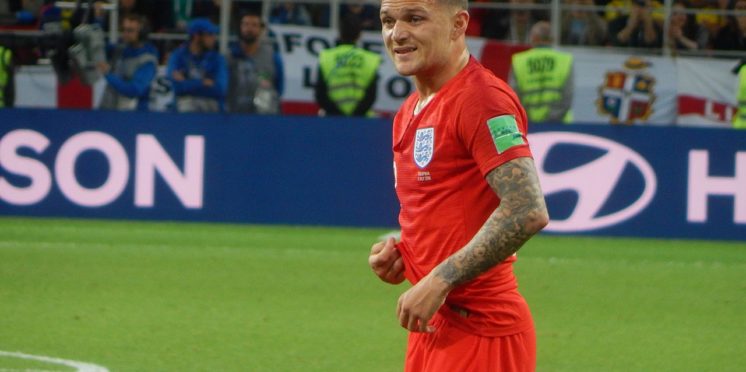 Sports Person of the Year: Kieran Trippier
Wednesday 12th December 2018
Harry Frazer – Multimedia Sports Journalism
It's been one of the most successful years in recent memory for England at the World Cup, winning a penalty shootout against Colombia in the Last 16, reaching the semi-finals for the first time since 1990 and sending the whole country into a state of euphoria.
One of the players that helped get Gareth Southgate's team there, who has gone quietly un-noticed, is Tottenham right-back Kieran Trippier.
Playing as a right wing-back during the World Cup, he started six games and became Southgate's wing-back of choice.
He defended extremely well, bombing up and down the channel as England went from defence to attack in an instant. Trippier completed 244 passes and put 30 balls into the penalty area, he was a real threat to the opposition.
He was also on corner duty as well, providing the balls into the box as the 'queue' lined up to get on the end of it. Corners were one of the strong points throughout the campaign.
The 'Bury Beckham' as some had touted him, provided just one assist though, the corner in England's 6-1 drumming of Panama where John Stones headed home.
He is perhaps mainly remembered for the remarkable free kick he scored against Croatia in the semi-finals, he looped it over the wall and into the top right corner after five minutes to send the nation crazy and full of hope of reaching a World Cup Final.
Sadly it was not meant to be, however for Trippier he received recognition from FIFA as he was included in the World Cup Team of the Tournament.
The likes of Harry Kane, Harry Maguire and Jordan Pickford are just a few that will be considered 'heroes' at the World Cup, but Trippier should be recognised as an unsung hero, his performances at the World Cup, as well as for Spurs, make him go quietly under the radar as one of the world's top performing defenders.
---