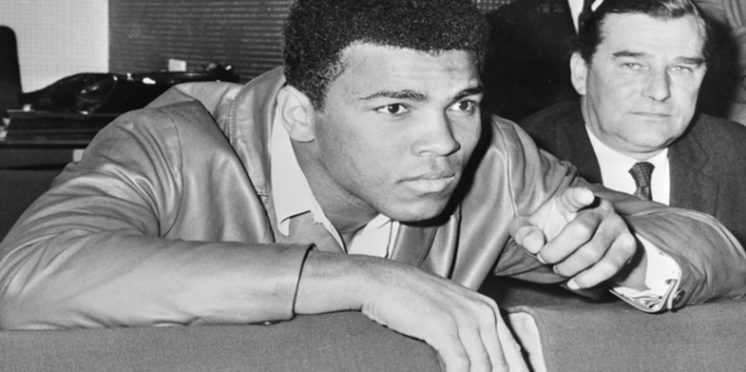 Why Muhammad Ali is the greatest Sporting Icon of the 20th Century
Myles McDevitt- UCFB Wembley 19th January
The BBC is currently running a series to find the greatest person of the 20th Century asking the public to vote on who should be it. This comes from a range of fields like Entertainers, Activists, Leaders and Explorers to name a few. Next week sees the public to choose the greatest sports start of the 20th Century.
Four sporting greats are nominated. Paralympian Tanni-Grey Thompson, Footballer Pele, Tennis's Billie Jean King and the Boxer Muhammad Ali. Whilst Jean-King, Thompson and Pele deserve their nominations for their achievements not on the field but off it, Ali's story is the most fascinating of them all.
Ali was born Cassius Clay in Louisville, Kentucky in 1942 taking up boxing when he was 12. He triumphed at the 1960 Olympics in Rome but when he arrived back from the Olympics, he was refused service at a white-only restaurant and subsequently threw his gold medal in the Ohio River.
He changed his named to Muhammad Ali after converting to Islam in 1965. By 1967, war had broken out in Vietnam and Ali refused service. Subsequently, he was refused a boxing licence in every state of America and didn't compete for three and a half years. His views were rejected at the time but people grew to him after seeing what was happening overseas.
Ali then fought his way back to the top. Fighting Joe Frazier twice, once in Madison Square Garden dubbed 'The Fight of The Century' and most memorably beating George Foreman in 1974 in the Rumble in the Jungle where he won the heavyweight championship at the age of 32 in front of worldwide Tv audience of a billion.
His fighting style was unique practically inventing the rope-a-dope tactics in which he would sustain punishment and then go for the win when the opponent tired and was brilliant in trash talk.
Ali was heavyweight champion of the world three times retiring in 1981. After retiring, he suffered from Parkinson's and bravely fought it right up until his death in 2016.  He had memorable battles in the ring but outside of the ring this is the reason why he should be voted the greatest sporting icon of the 20th Century.
---