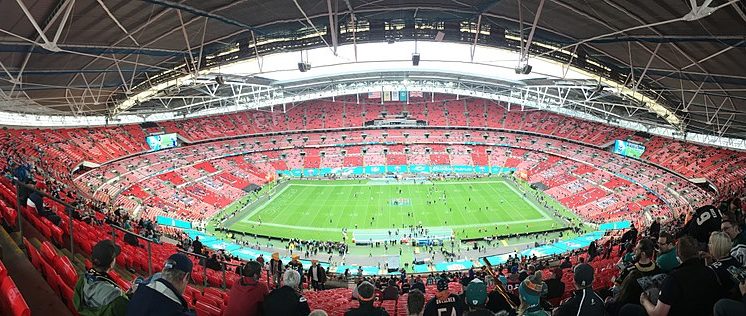 NFL returns to London with four games
Myles Mcdevitt- UCFB Wembley 26th January
This week the NFL confirmed that four games are being played in London in late September/ October. These games see more growth in the capital for American Football with the hope of a franchise in the coming decade.
When ready, Tottenham will host two matches with Wembley gaining two as well. The matchups include the Los Angeles Rams v Cincinnati Bengals, Tampa Bay Buccaneers vs Carolina Panthers, Chicago Bears vs Oakland Raiders and Houston Texans vs Jacksonville Jaguars. Both the Texans and Panthers are making their first appearances in the capital. This means that the NFL has nearly sent all the teams over bar the Green Bay Packers.
These matchups are one of the strongest that the UK has had in years. Texans vs Jaguars will be played at Wembley as Jaguars have a contract every season to play there. It is also a divisional matchup which means that there are bragging rights on the line at Wembley.
Another Divisional matchup will be the Buccaneers against Panthers. The Buccaneers make their return to the UK after losing twice against the Bears in 2011 and New England Patriots in 2009. They will want to avenge those defeats against a Panthers outfit led by the flamboyant Quarterback, Cam Newton.
The Rams make their highly anticipated return to London with their match against the Bengals. Whatever happens next week with the Super Bowl, the Rams have certainly been one of the most entertaining outfits to watch. A youthful side with head coach Sean Mcvey and Quarterback Jared Goff they will want to turn the style on in London.
The Bengals come back to London after their last game against Washington Redskins was the first international series game to go into overtime.
The Bears meet the Raiders in the final matchup of the London games with the Raiders needing to put the hammering they received from the Seattle Seahawks back in October behind them. The Bears recently made the playoffs and will want to keep the momentum that they had from this season into the next one.
These matchups are strong and both Tottenham and Wembley will be packed to the rafters for more high action games.
---