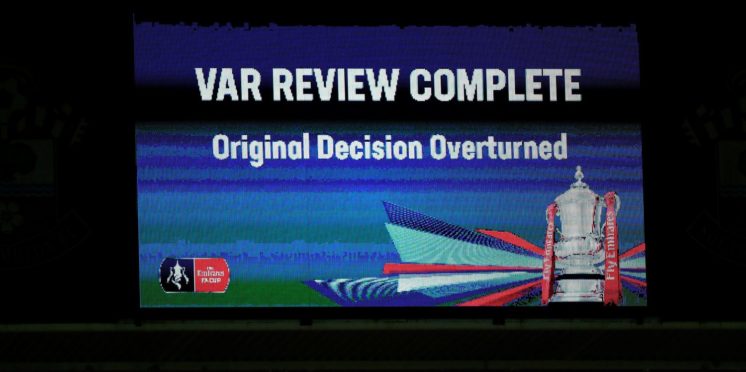 FA Cup controversy brings VAR use into question
Tuesday 29th January 2019
The controversy surrounding the use of VAR (or lack thereof) has once again reared its ugly head. This time it's in the FA Cup, bringing a seemingly never ending wave of divisiveness to the question of whether it should fill a function in English football, or be used at all.
The use of technology has been a hot topic of debate for some time now and, although a number of the world's leading leagues and competitions have already chosen to adopt VAR, the English FA and Premier League clubs continue to remain undecided. The debate still rages.
The leading leagues
No less than La Liga, Serie A, the Bundesliga and Ligue 1, basically all of Europe's major leagues, have adopted the use of VAR over the last couple of seasons. Serie A and the Bundesliga are currently in their second season of employing VAR technology, while La Liga brought it into use at the beginning of the 2018/19 season. You can follow all of Europe's leading football leagues with dedicated football betting tips at BetBlazers.com.
La Liga published its first VAR report during the international break in late 2018 proclaiming it a standout success. Their report stated that VAR had already successfully corrected ten key decisions, including seven goal incidents, two penalty decisions and one case of mistaken identity.
But it hasn't all been a show of positivity and support for VAR in Spain's top flight, with a number of Spanish clubs lodging unwavering criticism and complaints towards VAR's inconsistency. Both Atlético and Real Madrid have complained about penalty decisions in recent weeks, while Real Valladolid fans waved red cards from the stands in protest against the use of VAR.
In France, Bordeaux took to social media to claim that VAR was a "scam" after Nice were awarded a penalty in a match that Bordeaux went on to lose 1-0.
Entertainment value
However, it's not in Europe's leagues where VAR has had the most exposure, and arguably the greatest impact so far. Most football fans were introduced to VAR when it was featured at the 2018 FIFA World Cup in Russia last summer.
For the most part it was employed successfully, with potentially quarrelous decisions dealt with swiftly and transparently. Much to FIFA's relief it wasn't controversy surrounding VAR that made the headlines. Many doubters had stated that VAR would take the entertainment value from the beautiful game, but in the World Cup nothing could have been further from the truth.
In contrast, when employed correctly, the use of VAR added an extra element of soap opera-like entertainment value to matches. When properly kept in the loop spectators were on the edge of their seats, waiting with baited breath for the reviewed decision in high intensity situations, which served to excite football fans around the world.
Not without controversy
VAR hasn't been completely absent from English football. The English have been traditionally protective in regards to the use of technology in contrast to their European counterparts.
Last season Premier League clubs voted in a two-thirds majority to deny the use of VAR in the current season, feeling that further trials and preparations were needed before it could be successfully employed in England's top flight.
Understandably, Russia's World Cup stadiums were built with VAR in mind from the outset, and all the necessary accoutrement such as big screens were present to enable spectators in the stadium to stay informed and able to participate in the process.
The clubs are perhaps quite right to doubt VAR in that regard, with many English stadiums not equipped with big screens, but if the technology is good enough for the World Cup as well as all of Europe's biggest leagues, then surely it's good enough for the Premier League.
The edgy English
VAR is still under a two season trial period in England, being used in selective Carabao Cup and FA Cup games where it's already faced its share of criticism. Last season Tottenham manager Mauricio Pochettino openly criticised VAR after their fifth round FA Cup replay against Rochdale.
Pochettino called the use of VAR 'embarrassing' following a lengthy wait in the cold for fans, players and staff alike to find out exactly what was happening on the pitch. He furthered his criticism by claiming that nobody in Europe was happy with VAR.
Potential impact
More recently the question of VAR met the fury of Everton manager Marco Silva. Everton crashed out of the FA Cup in the fourth round to struggling Championship side Millwall 3-2. It might have been a different story altogether if VAR had actually been in use.
The FA Cup is currently trialling VAR only in specific games. In the third round there were nine selected games where VAR was present, while the fourth round had six games with VAR, Everton's game not being one of them.
Replays revealed that Millwall's equaliser was clearly handballed into the net by Lions' defender Jake Cooper, something that VAR would have easily rectified, possibly altering the outcome of the game.
Consistency is key
It's no surprise, then, and entirely justified that Everton feel hard done by. Nobody would blame Silva for proclaiming that VAR's selective employment in English cup competitions is unfair. It simply has to be all or nothing.
It's not settled yet how many remaining games will have VAR, but the FA Cup is back in action in the fifth round in mid-February. The competition is wide open after a number of cup upsets in the early rounds were coupled with some of the big hitters getting through. Manchester City are current favourites, but Manchester United and Chelsea are also in the mix. To review a number of betting offers and welcome bonuses ahead of a bet head over to BookiesBonuses.com.
VAR's reputation itself, whether on English shores or abroad, is rooted in consistency. As soon as a decision is wrong, or the process is revealed to have a flaw, its usage is brought into question, and quite rightly.
Those at the top of the English game would do well to think on the question of consistency. Until the English FA and the clubs can come to an agreement it'll be a case of damned if they do, damned if they don't when it comes to VAR, but a decision has to be made one way or another with no half measures.
---