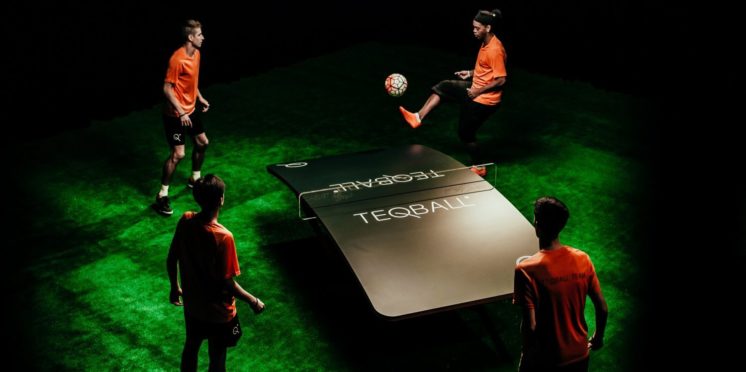 Ronaldinho to star as Teqball features at first ever African Beach Games
Tuesday 14th May 2019
Teqball has been announced as part of the programme for the first ever African Beach Games on the island of Sal in Cape Verde, from 14 – 23 June this year, with a special appearance from global football superstar Ronaldinho.
The West African archipelago will play host to the African Beach Teqball Cup, a doubles tournament comprising 12 teams including special guests Ronaldinho and female doubles partner Natalia Guitler representing Brazil. The pair will take part in the group stages only, as part of a demonstration team to showcase the growing sport.
A partnership with Ronaldinho was announced this year, which say him join other football legends including Robert Pirès, William Gallas and Simão Sabrosa in promoting the sport. The former Brazilian attacking midfielder has become a big fan of Teqball since retiring from professional football, regularly seen playing at his home and on the beaches of Rio de Janeiro where he now lives. He will also be attending a press conference and gala dinner during his time in Cape Verde.
Fédération Internationale de Teqball (FITEQ) Vice-President and Co-Founder, Viktor Huszár, said, "Ronaldinho is arguably one of the greatest footballers of all time and someone who has taken naturally to Teqball due to his unmatched skill, agility and flare. We know there are also many talented Teqball players in Africa and many more who are yet to try it but who could have a promising future in the sport. We look forward to seeing Teqball continue to grow in Africa and welcoming the teams competing for the African Beach Teqball Cup doubles title in June."
The inaugural African Beach Games will feature 11 different sports, with a total of 30 medals set to be contested by around 800 athletes representing the National Olympic Committees of Africa. Teqball's inclusion as an illustration sport means it will not be included in the overall medal tally, but the tournament will be an official part of the Fédération Internationale de Teqball (FITEQ) calendar.
FITEQ President and Co-Founder, Gábor Borsányi said, "We'd like to acknowledge ANOCA and the organising committee of the 1st African Beach Games for providing us with a unique platform to showcase Teqball to the many talented athletes in Africa and beyond. It's opportunities like this that enable us to continue to grow our sport and provide opportunities for Teqball athletes to compete at an elite level."
FITEQ Vice-President, György Gattyán said, "The sport of Teqball is going from strength to strength and official recognition from the world's Olympic committees, including ANOCA, is a significant step towards our goal of seeing it be one day be included in a future Olympic Games. The African Beach Games is a fantastic opportunity for us to further promote the sport in Africa and to prove that Teqball is worthy of inclusion in many more largescale international events."
African athletes have already demonstrated their talent and skill with strong performances at other international Teqball events including the 2nd Teqball World Cup in Reims, France last year. There Cameroon, Morocco and Algeria competed in a pool of 42 countries, with the latter two progressing to the final 16 in the doubles event. June's African Beach Teqball Cup will be contested by teams from Tunisia, Morocco, Algeria, Cameroon, Senegal, Egypt, Madagascar, Ghana, Nigeria, Mauritius and Cape Verde, over two days from Monday 17th June to Tuesday 18th June.
Association of National Olympic Committees of Africa (ANOCA) President, Mustapha Berraf said, "Teqball is a sport that requires a unique combination of skills that makes for a thrilling spectator showcase, but also a competitive and attractive sport for athletes. It's this combination that influenced our decision to grant FITEQ the opportunity to showcase Teqball as an illustration sport here in Sal, as well as at the upcoming African Games Rabat 2019 Athletes Village in August."
SAL 2019 African Beach Games Organising Committee CEO, Yann Craven said, "It's important to us that we create an exciting programme for everyone attending the 1st African Beach Games and we have no doubt that Teqball will help us to achieve that. It is the world's fastest growing sport for a reason, and we have seen many athletes in Africa take up the sport in recent months as they realise its future potential."
Since its establishment only two years ago, Teqball's governing body, the Lausanne-based FITEQ has been seeking recognition from major international sporting organisations to support its quest to make Teqball an Olympic sport. The Olympic Council of Asia (OCA) was the first to officially recognise Teqball at its General Assembly meeting in Jakarta last year, paving the way for the burgeoning sport to feature at the next Asian Beach Games in 2020. ANOCA and the Oceania National Olympic Committees (ONOC) are both expected to follow in due course by announcing Teqball as an officially recognised sport in their regions as well.
As part of a development plan to support the growth of Teqball in new territories, FITEQ has announced it will donate tables and funds to national federations planning on competing in future events. The plan includes €1,500,000 worth of grants designed to help promote the uptake of Teqball across all five continents..
The African Beach Teqball Cup will be streamed live by FITEQ on Teqball's social channels.
---