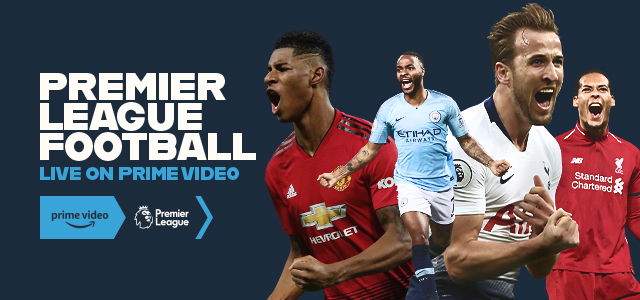 Amazon Prime Video's Premier League Football Fixtures Confirmed
Friday 14th June 2019
Today, the Premier League has confirmed the full list of fixtures for the 2019/20 season and we are excited to share the first ever fixtures to be broadcast on Amazon Prime Video this December. Prime Video's exclusive coverage will mark the first time a full round of Premier League fixtures featuring every Premier League team will be broadcast live in the UK, showing all 20 games across two rounds – the early December midweek games and Boxing Day.
Amazon couldn't get off to a bigger start! Prime members in the UK will be able to watch the first Merseyside Derby of the season as Everton travel to Anfield to take on European Champions, Liverpool. Manchester United will be hosting Champions League finalists, Tottenham Hotspur, in a top of the table clash at Old Trafford.
Our Boxing Day round will also have a brilliant line-up including current Premier League Champions Manchester City travelling to Wolves and Liverpool travelling to Leicester, both challenging away games for last season's league leaders. Plus a big tie with Manchester United versus Newcastle, which was a thriller last season. These are just some highlights along with the every other game played in each of the fixture rounds, live, exclusive and free for Prime members.
More information can be found here and be sure to follow @primevideosport on Twitter and Instagram for all the latest news.
How to watch:
Existing Amazon Prime customers will be able to access these Premier League fixtures for free
New customers will be able to join Amazon Prime for £7.99 per month, or £79 for the year – for more information please visit: https://www.amazon.co.uk/amazonprime
Customers can watch via the Prime Video app – available on Fire TV, BT TV and Talk Talk TV, on mobile devices, Fire TV Stick, online and many more. For a list of all compatible devices visit www.amazon.co.uk/watchlivesport
---