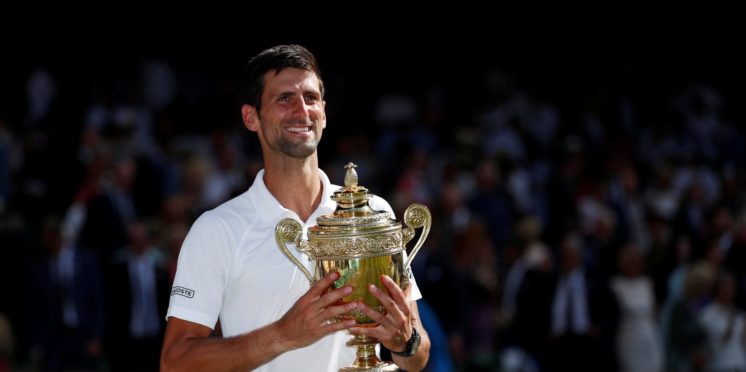 Can Dominic Thiem Break Through "Big Three's" Dominance at Wimbledon?
Thursday 20th June 2019
Roger Federer was supposed to be on his last legs. Injury-plagued Rafael Nadal was supposed to be past his prime. Even Novak Djokovic appeared to be in a mid-career swoon about 18 months ago. In short, tennis' "Big Three" were supposed to be ebbing, clearing the path for a new generation of stars – like 25-year-old Dominic Thiem – to start claiming Grand Slam titles.
But Father Time has been held at bay. Federer (now 37), Nadal (33), and Djokovic (32) have won 10 straight Grand Slams dating back to Stan Wawrinka's triumph at the 2016 US Open. Indeed, no player currently under 30 years of age has ever won a Slam. The youngest active player with a major title is Juan Martin del Potro, who turned 30 last September.
Thiem, currently ranked fourth in the World, nearly broke that drought at the 2019 French Open, but Nadal ousted Thiem in the finals (6-3, 5-7, 6-1, 6-1) for the second straight year..
Thiem and the rest of the "Next Gen" of men's tennis will get their next chance to break through the old guard's Grand Slam dominance at Wimbledon, which runs from July 1st to 14th.
Thiem's success on clay has not resulted in the Austrian being viewed as a legitimate threat at Wimbledon, though. While his odds to win at the All England Club improved after reaching the finals in Paris, he is still a 34/1 longshot, according to SBD's Wimbledon odds tracker.
Standing an average 6'1, lacking a huge serve, and not terribly effective at the net, Thiem's style is not best suited to grass. Comparing his serving statistics to Federer, the grass-court GOAT, Thiem wins 3.3% fewer points on his first serve (77.4 vs 74.1) and nearly 4% fewer on his serve overall (69.4 vs 65.6).
The players who tend to overperform at Wimbledon relative to their ranking – the John Isners and Kevin Andersons of the world – are known for their huge, flat serves, which skid on the Wimbledon turf and make life difficult for returners.
Isner, who's currently ranked 11th and has never been higher than 8th, reached the semifinals at Wimbledon last year and has been to at least the third round in four of the last five editions. Thiem has only gone beyond the second round once in five tries, reaching the fourth round in 2017. He followed that up with a first-round exit last year, falling behind Marcos Baghdatis 6-4, 7-5, 2-0 before retiring.
He is playing the best tennis of his career this season, though, and it hasn't been limited to clay. On the hard courts of Indian Wells, he beat two massive servers (Ivo Karlovic and Milos Raonic) before edging Roger Federer in a three-set thriller in the finals.
The win marked his first Masters 1000 title ever.
Winning his first Slam on his worst surface still looks like a huge longshot, of course, especially with Federer and Djokovic still near peak performance levels. But it's looking more and more likely that the two-time Grand Slam finalist will break through sooner or later. And hey, even if it doesn't come in singles, he's always got his budding mixed-doubles career with Serena Williams to fall back on, right?
REUTERS/Andrew Boyers
---