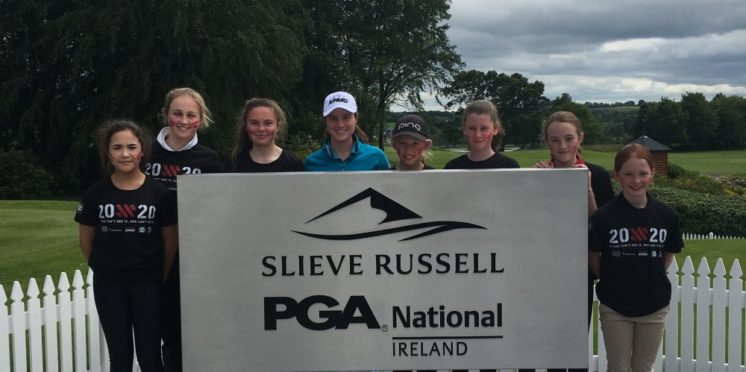 SLIEVE RUSSELL RETURN GIVES MAGUIRE 20×20 VISION
Thursday 25th July 2019
Up-and-coming Ireland professional Leona Maguire took time out from her busy schedule to make a return visit to her home club, PGA National Ireland Slieve Russell, to host an event aimed at inspiring the next generation of Irish female golfers.
Maguire, who is currently playing on the Symetra Tour in America, treated a group of nine girls of all ages and abilities to an exclusive golf clinic at the venue in Ballyconnell, Co. Cavan, in her role as KPMG ambassador for the 20×20 campaign.
As well as playing nine holes and taking part in a question-and-answer session, the group – which included Ireland's current under-16 reigning champion, Beth Coulter, as well as three complete beginners – also had the opportunity to receive some individual tuition from the Irish star.
Maguire grew up in close proximity to Slieve Russell and its highly regarded Patrick Merrigan-designed 18-hole championship course, which provided the ideal setting for her introduction to golf and the early development of her game, as well as that of her twin sister and fellow professional golfer, Lisa.
Speaking at the event, Maguire said: "Returning to my home club of Slieve Russell, the new PGA National Ireland, is always a treat.
"The driving range and course provided the backdrop to my introduction to golf and the development of my game. I have no doubt that having such a fantastic course and golf facilities available to me from an early age was a significant factor in my ultimately becoming a professional golfer.
"I am really enjoying the challenge of carving out a career in professional golf and would love to see more Irish women and girls having similar opportunities in professional sport. I am thrilled to have had the chance to meet, play and talk with some of Ireland's aspiring female golfers.
"It was also great to meet some girls who are new to the game and, hopefully, in some way, I can inspire them as to what is possible when opportunity combines with passion, hard work and dedication."
Gordon Smyth, head professional at PGA National Ireland Slieve Russell, said: "All of us at Slieve Russell are so proud of Leona and her sister Lisa and all that they have achieved so far in golf.
"It has been a privilege to watch their journey from young girls here at the golf club to becoming professional golfers playing all over the world. We were delighted that Leona chose to fulfil her 20×20 pledge and support her efforts to inspire a further generation of Irish female golfers here at PGA National Ireland Slieve Russell, where the development of young Irish golfing talent remains a key motivation for us with our world-class golf facilities."
---