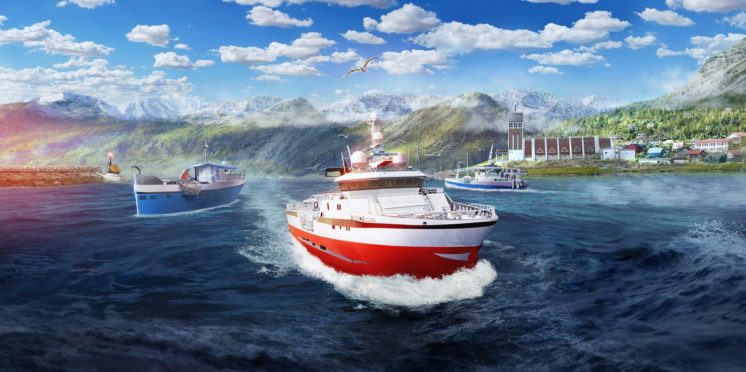 Fishing: Barents Sea – Complete Edition / Fishing: North Atlantic
Tuesday 13th August 2019
Fishing: Barents Sea to be released on consoles in 2019, successor already in development
Fans of deep sea fishing will be delighted to hear some great news about their favourite simulation game brand today: Fishing: Barents Sea, the iconic fishing and ship simulation game for PC by astragon Entertainment and Norwegian developer Misc Games will be released on consoles later this year. Already included from the start next to the main game will be the Line and Net Ships DLC. The King Crab DLC will follow later in form of a free update. This Fishing: Barents Sea – Complete Edition will offer players the unique chance to captain their very own fishing vessel on Xbox One, PlayStation®4 and a little later this year, also on Nintendo Switch™. After conquering the mighty Barents Sea, fishermen will be excited to discover some vast new fishing grounds in a completely new game of the Fishing brand, Fishing: North Atlantic, which is currently still in development.
Cast out your net and catch yourself some first impressions of the new console version in the new Fishing: Barents Sea – Complete Edition accolade trailertoday!
In the Fishing: Barents Sea – Complete Edition you will start your career on board of your grandfather's small but reliable line fishing ship, the Børge. Locate the best fishing grounds in this huge, open game world along the coastline of northern Norway with the help of your ship's radar, and later in the game, using the originally licensed Scanmar catch system. Make sure to keep an eye on the selling prices of different fish species on the local market and master the many different fishing methods available in the game.
With a little bit of skill and good fortune you will soon be able to exchange the little Børge for larger and larger ships with better equipment until you will be able to afford the gigantic, originally licensed Hermes Trawler. As an alternative, you can put your focus on catching the majestic king crabs and invest your accumulated funds in buying the mighty vessel Svalbard with its huge crab pots and powerful crane to haul in your valuable catch.
No matter which path you choose to follow, with its intuitive controls perfectly adjusted to your needs, the Fishing: Barents Sea – Complete Edition will always offer you an atmospheric and immersive simulation experience.
Once you have achieved everything that is possible for a successful fisherman in the Barents Sea, you will be able to move your business to the North Atlantic in just a few months' time. As its name already suggests, the brand-new successor to the game series, Fishing: North Atlantic, will be set in a completely new location, and also offer a lot of new and exciting features. Fishing fans can already look forward to another great catch!
The Fishing: Barents Sea – Complete Edition will be released in 2019 as a digital download for Xbox One in the Xbox Games Store, for PlayStation®4 in the PlayStation® Store and immediately afterwards for Nintendo Switch™ on the Nintendo eShop. The King Crab DLC will be released a little later in form of a free update.
Gamescom
Media partners, visiting the Gamescom game show in Cologne this year, will already be able to take a sneak peek at Fishing: North Atlantic as well as the console version of Fishing: Barents Sea. Please get in touch with our team at[email protected] to make an appointment at the astragon business booth (Hall 4.2 B-011/C-018) from Tuesday, August 20 – Thursday, August 22, 2019.
For more information on Fishing: Barents Sea visit:
Unreal, Unreal Engine, the circle-U logo and the Powered by the Unreal Engine logo are trademarks or registered trademarks of Epic Games, Inc. in the United States and elsewhere. All rights reserved. Kinect, Xbox, Xbox 360, Xbox One and Xbox LIVE are either registered trademarks or trademarks of the Microsoft group of companies. The "PS" Family logo and "PS4" are registered trademarks of Sony Interactive Entertainment Inc. Nintendo Switch is a trademark of Nintendo. All other names, trademarks and logos are property of their respective owners.
______________________________
---