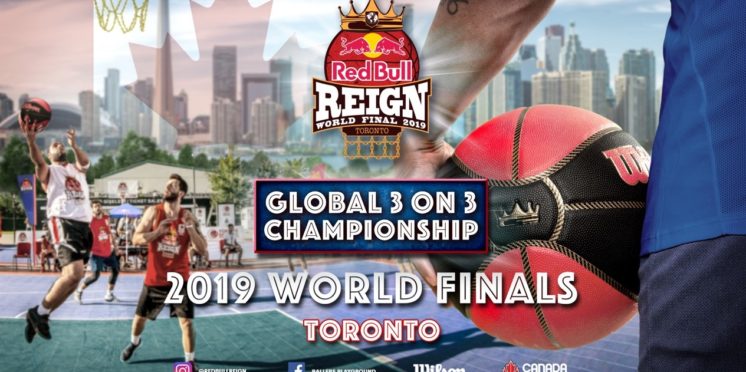 London teams represent UK in Red Bull Reign World Final
Wednesday 21st August 2019
The search for the world's best men's and women's 3×3 streetballers ends in Toronto on August 31st at the Bentway.
Red Bull Reign, the ultimate 3 on 3 streetball tournament, will culminate in a World Final with sixteen countries sending teams to Toronto, Canada, August 31st, 2019.  Hosted in the city that the 2019 NBA World Champions call home, a global spotlight will once again highlight Canada's diverse basketball scenes and talented athletes.
2500+ athletes and 650+ teams from 16 countries have competed over the last six months in Red Bull Reign qualifying events, all with the goal being to reach the World Finals. The offensive packed 3-on-3 World Final Competition will feature top teams from Angola, Belgium, Canada, Estonia, Hong Kong, India, Kosovo, Lithuania, Montenegro, Nigeria, Philippines, Russia, The Netherlands, Turkey and the United Kingdom. Teams across the women's and men's division will square off in a unique format that tests one's endurance, skill, teamwork, and ability to flat out own the half court.
The UK qualifying teams, both from London, include Asphalt Assassins and Sharks who were crowned national champions in June.
Milly Watkins, who captained Sharks, was in disbelief: "I can't really believe it. We were just trying to play each game as it came – it was such a close finish with the free-throw to tie the game. We're all so excited to be heading to Toronto!"
Justin Hitchman from Asphalt Assassins added: "We're ecstatic. We worked hard to get here and get the win so I'm really happy to be here with my teammates. We started really sloppy, we lost a couple of games but we picked it up – we started figuring out our strengths and that's what we executed."
Reflecting the unique tournament format and Toronto's diverse street basketball scene, the tournament will be hosted at The Bentway, a public space underneath one of Toronto's most prominent expressways.   Spectators making their way to The Bentway can expect two custom courts designed by local artists Bryan Espiritu and Ghostface Adam, music curated by Toronto Raptors mainstay DJ 4Korners, a dunk show from Jus Fly and Daniel Kabeya, and so much more.
The Red Bull Reign World Final is free for spectators, and will start at 11am at the Bentway on Saturday, August 31st. Event can be found here.
Red Bull is proud to be working alongside Canada Basketball, H&M and Wilson as our partners at the world finals.
More information please visit www.RedBullReign.com
THE DETAILS:
What: Red Bull Reign – a global 3 on 3 streetball tournament
Where: The Bentway, 250 Fort York Boulevard, Toronto, Ontario
When: Saturday August 31st, 11am – 5pm
Join the Conversation 
Website: www.RedBullReign.com
Twitter: @RedBullUK
Instagram: @RedBullReign @RedBullUK
#RedBullReign
---