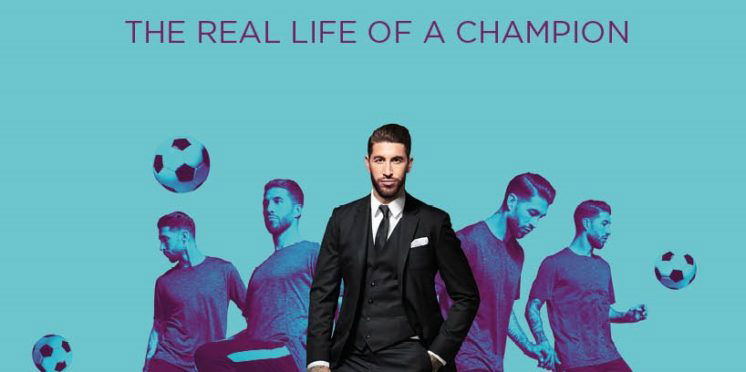 AMAZON PRIME VIDEO RELEASES EL CORAZÓN DE SERGIO RAMOS TRAILER
Saturday 24th August 2019
The docuseries about the captain of Real Madrid and one of the most iconic football players in the world, Sergio Ramos, will launch on Prime Video from 13thSeptember
Georgia Brown, Director of European Amazon Original Series, speaking at the Edinburgh TV Festival, revealed Prime Video's official trailer of El Corazón de Sergio Ramos, in which the iconic football player opens the doors on his professional, personal and family life, including never-before-seen footage. The docuseries will be released exclusively on Prime Video in more than 200 countries and territories worldwide on Friday 13thSeptember.
Prime Video were granted exceptionally rare access to Sergio's everyday life, ensuring that El Corazón de Sergio Ramos will portray a brand new side to the iconic football player. The cameras follow him as he leads his teammates through a difficult time, with ever-mounting pressure to perform on the pitch. Whilst football is unquestionably at the heart of the show, viewers will also see interactions with his family and friends who reveal an intimate side of Sergio that the world seldom sees. Viewers of this Amazon Original series will discover his incredible legacy, from his beginnings in Seville through to his leadership on the national team and at Real Madrid.
The eight half-hour episode docuseries is a production from Love Productions USA with executive producers Richard McKerrow, Kevin Bartel and Lety Quintanar. Prime members will be able to watch El Corazón de Sergio Ramos with the Prime Video app available on TVs, mobile devices, Amazon Fire TV, Fire TV Stick, Fire tablets, games consoles, on the Talk Talk TV set top box, Apple TV, Chromecast, BT TV or online. In the Prime Video app, users can download all episodes on their mobile devices and tablets and watch anywhere offline at no additional cost, as part of a Prime membership for just £79/year; new customers can find out more at www.amazon.co.uk/prime and subscribe to a free 30-day trial.
The series will join the growing list of sports docuseries and live sports, including All Or Nothing: Manchester City, This Is Football, Inside Borussia Dortmund, live and exclusive Premier League football matches in the UK, US Open Tennis and ATP World Tour Tennis events in the UK, and NFL games, all available to watch on Prime Video for Prime members, along with a slate of Spanish Amazon Original productions including the successful docuseries about LaLiga, Six Dreams, and the highly anticipated upcoming series for 2020, El Cid, La Templanza and Un Asunto Privado.
---