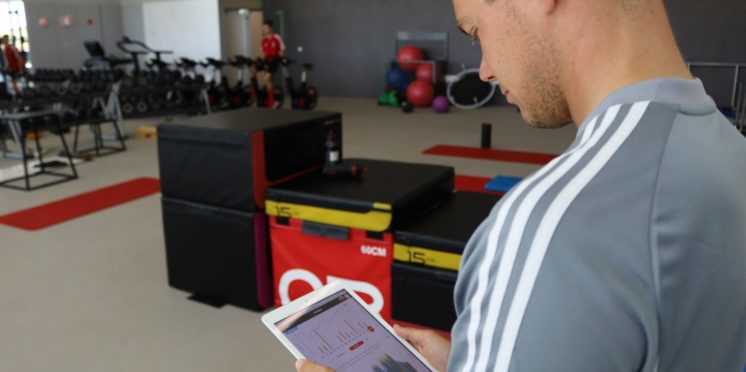 Benfica Boost Training Optimization with Firstbeat Sports
Sunday 25th August 2019

S.L. Benfica, reigning champions of Portugal's Primeira Liga, will use Firstbeat Sports' advanced performance analytics to enhance physiological and internal monitoring of their players during the 2019-20 season.
The Portuguese team will introduce Firstbeat Sports' Premium+ player monitoring solution which boasts a wide range of heart rate variability-based metrics and features aimed at optimizing performance, fast-tracking player development, and reducing injury risk.
Providing an accurate and instant picture of a player's physiological responses throughout the season, Firstbeat Sports provides coaches – and athletes themselves – with the information needed to individualize and modify training and recovery in real time and during post-session analysis.
Benfica will also benefit from the next–generation Sensor and Live app solution introduced in summer 2019 as they look to defend the Portugal top division title and compete in the UEFA Champions League.
Sports Scientist at Firstbeat Sports, Christoph Rottensteiner, PhD said:
"For years, Benfica has been working with GPS and external load data. It is exciting to see them recognize the importance of internal load monitoring too, especially in football. The fact they're also equipping their youth teams with Firstbeat Sports will help Benfica further develop their young players' potential and ensure the quality of their own academy work – an investment that will pay back in the near future.
"Utilizing the Sensor and Live app solution will also introduce more flexibility and mobility to their player monitoring setup and naming Jan Schimpchen as Head of Monitoring speaks to a long-term commitment and successful cooperation between Firstbeat and Benfica."
Jan Schimpchen, Head of Player Monitoring at Benfica, said:
"Keeping players healthy and in great physical condition is a difficult task during a long season filled with plenty of important games. We take this challenge seriously and are happy to partner with Firstbeat to improve our player monitoring efforts. Given the amount of useful, scientifically validated metrics that the system provides, Firstbeat was a logical choice for us. It's very functional and easy-to-use but at the same time full of detailed information which help us understand and manage the players' workloads on an individual basis."
Firstbeat is excited to work with Benfica and help the 37-time Portuguese league champions continue to compete at the top level domestically and in European competition.
---