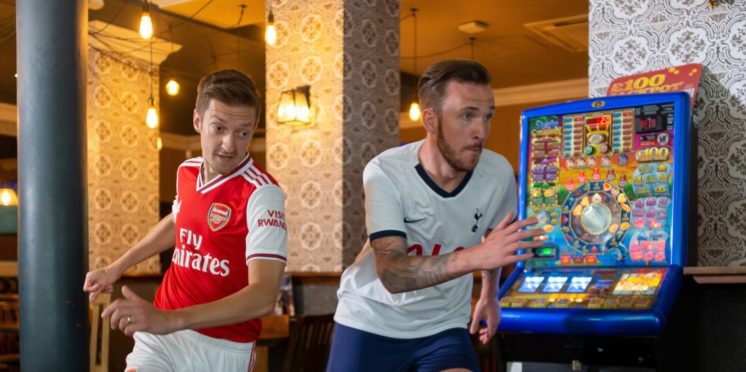 VAR and Away the Best Thing for Football
Saturday 31st August 2019
33% of football fans spend their time discussing VAR when it comes to the sport
Younger audiences are split 50:50 with the benefits of VAR
Greene King creates world's first VAR-BAR
THE UK may be a nation of football fanatics, but according to new research the introduction of VAR is dividing the generations of fans.
Although half the nation are a lover of the game (49%), the research from Greene King, the UK's leading managed pub company and brewer, found that it's young Brits who are embracing the introduction of the technology.
Over half (51%) of 18-34 year olds think VAR ensures a fair decision, 48% think it stops injustices within the game, while over a quarter (27%) think it provides more excitement for fans. Only 12% of 18-34 year-olds believe that VAR hasn't brought any benefits to football.
A controversial topic amongst football followers, not everyone is a fan. Almost a quarter of Brits (22%), believe VAR has slowed down the game, whilst 14% think it has taken the fun out of the game for fans.
In honour of VAR and the return of the Premier League, Greene King, which has over 1,000 pubs showing the football games, has created the world's first VAR-BAR at The Griffin Pub in Leeds.
The VAR-BAR is being trialled to aid pub staff in deciding who's next in line to be served at the bar, avoiding any disgruntled punters, and was put to the test by footballing legend Chris Kamara.
Chris Kamara, added: "I had great fun playing referee behind the VAR-BAR at Greene King. While controversial, VAR is an important innovation that's not only helping the performance of the game but in Greene King's case – helping football fans get to the bar quicker!"
Chris Conchie, brand controller for sport at Greene King, said: "The great thing about watching the Premier League games at the pub is the banter and debate you get to have with your mates, and we're already seeing a lot of discussion about the introduction of VAR that's dividing the nation this season. But there's no denying it's improved the accuracy of the game, which is where our idea came from to trial the world's first VAR-BAR to support bar management."
Love it, or hate it, VAR is what a third (33%) of football fans spend most of their time discussing when it comes to the sport, followed by hand-ball rules (30%) and goal keeping rules (18%), and nearly a fifth of Brits (19%) believe VAR has been good for the sport, thinking the technology provides more excitement for football fans.
A talking point across the country, football fans from the North West are the biggest advocates for VAR. Two fifths (40%) believe VAR has been the most positive innovation and introduction to the game, followed by 36% in the South East and 35% of fans from Yorkshire.
To find your nearest Greene King pub visit: https://www.greeneking-pubs.co.uk/live-sport/
---