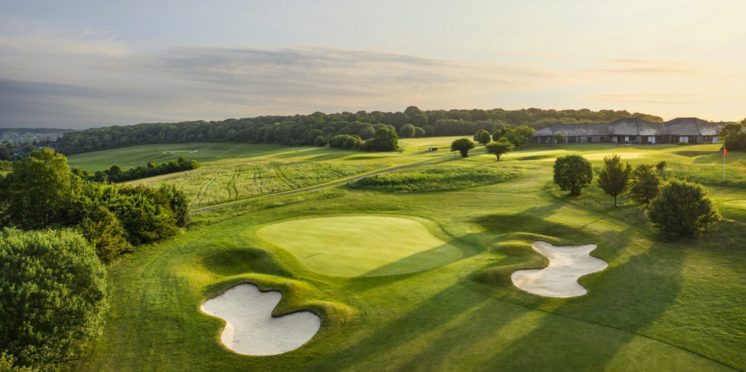 "FANTASTIC" FARLEIGH HAILED AS DUO DEFEND PGA FOURBALL TITLE
Thursday 12th September 2019    
Jack Winer and James Watts proved to be a formidable force as they became the first duo to retain the coveted PGA Fourball Championship title on Farleigh's stunning course at the end of August.
The Surrey venue welcomed more than 100 PGA Professionals from across the UK and Ireland to the popular pairs event which, sponsored by Golfbreaks.com, saw a total of 54 holes played over three days in a fourball strokeplay format.
Last year's winners, Winer (Abridge Golf & Country Club) and Watts (Kingsway Golf Centre), completed their championship defence with an impressive score of 31-under-par, and they did so in convincing style, finishing two shots ahead of the rest of the field to win the £5,500 prize.
The birdie-filled tournament saw some exceptional golf played, including a hole-in-one from Kettering Golf Club's Michael Campbell on the blue course's par-three seventh and an albatross from Gary Gilligan of Sweetwoods Park Golf Club, where he navigated the 500+ yard sixth hole in just two shots.
The 27-hole course, designed by Ryder Cup legend John Jacobs, cemented its standing as a prime venue for professional tournaments when it was selected to host the prestigious event for two consecutive years (2019 and 2020), following a successful staging of various PGA qualifying events, as well as the PGA Assistants' Championship – making it the only PGA National Final venue in the area.
PGA head of tournaments, Charles Hine, said: "This was the second year running that one of our national finals has been staged at Farleigh and, on both occasions, the reaction of the players and PGA tournament staff has been unanimously positive.
"The course has been in tip-top condition, Farleigh staff have looked after us royally and the work of the club's members in helping the tournament run smoothly has been invaluable. Needless to say, we're looking forward to returning next year."
Set in 350 acres of tranquillity in the North Surrey Downs, the club continues to forge an enviable reputation with its greens built to USGA specifications and exceptional course conditions throughout the year.
Defending champion Jack Winer commented on how impressed he was with the facility following his victory: "I really love the course, we were lucky enough to play it last year at the PGA Assistants' Championship and it's improved since then. It's in fantastic condition with lush greens and is challenging in areas – especially on the back nine – but I really like it and it suits my style of play, you don't have to hit it miles, you just have to keep it in play.
"It's got everything here, including excellent practice facilities, and we're delighted to get the win and reserve our dedicated parking spot for next year!"
Marc Hayton, owner of Farleigh and its sister club Foxhills, said: "It was an absolute pleasure to host the tournament, we were fortunate enough enjoy some phenomenal golf and a historic victory.
"The course was kept in great condition, as always, thanks to our fantastic greenkeeping team and new fleet of equipment and we were delighted to hear such positive feedback from the players and tournament officials. We would also like to thank the team of volunteers, which comprised of around 20 Farleigh members each day, whose enthusiasm, professionalism and hard work allowed the event to run smoothly and successfully."
For an overview of the action from each day, please see the links below from the PGA:
Day one round-up: "Birdie Bonanza"
Day two round-up: "The eagles have landed"
Day three/winner round-up: "Purple reign"
A full list of scores can be found here
For more information on Farleigh, visit www.farleighfox.co.uk
---