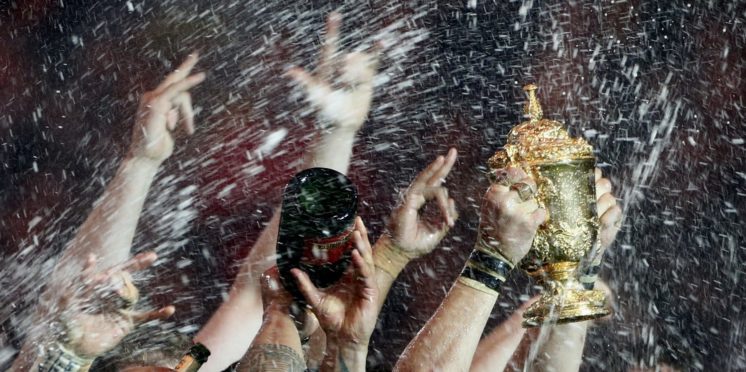 How to Watch the 2019 Rugby World Cup in the UK
Tuesday 17th September 2019
Take a look at the full schedule for the 2019 @rugbyworldcup exclusively on @ITV https://t.co/USP1ueiRwH

— ITV Rugby (@ITVRugby) August 15, 2019
Every single match of the 2019 Rugby World Cup in Japan will be broadcast on ITV in England, STV in Scotland and S4C in Wales. Whichever part of the UK you're from, you can follow your nation as they challenge for the Webb Ellis Cup in the tournament that runs from Friday, 20 September to Saturday, 2 November.
England won the Rugby World Cup in Australia back in 2003, but bowed out after the pool stage when hosting the last edition four years ago. Wales are two-time semi-finalists, finishing third in 1987 and fourth in 2011. Scotland, meanwhile, made it to the semis in 1991 when the Rugby World Cup was held throughout the British Isles.
How do they bet on the 2019 Rugby World Cup?
Defending champions New Zealand are the bookmakers' favourites for a third consecutive global crown. Their form in competitive Tests has been patchy of late, however, and fellow Southern Hemisphere nation South Africa who won the Rugby Championship have shortened in the market. England are 4/1 contenders in the Rugby World Cup betting odds to win the tournament with Paddy Power – ahead of Ireland at 8/1 and Six Nations Grand Slam winners Wales at 10/1. Australia come next at 14/1, and it's 25/1 and bigger bar those six countries.
What time are the 2019 Rugby World Cup matches on?
Japan is seven hours ahead of the UK and that means an early start for British viewers wanting to watch Rugby World Cup matches during the Pool Stage. Games which kick-off at 05:45 British Summer Time and 06:15 BST take place about lunchtime in local Japanese time. Later matches that start at 10:45 or 11:15 BST are evening events over in Japan. The official time zone during which all Rugby World Cup matches take place is Japanese Standard Time (JST), which is expressed as UTC+9.
Which UK teams are in which Rugby World Cup pools?
Top of Pool A:______
Top of Pool B:______
Top of Pool C:______
Top of Pool D:______ pic.twitter.com/kt4hZER2KV

— Rugby World Cup (@rugbyworldcup) September 7, 2019
Scotland are in Pool A at the Rugby World Cup finals with fellow celtic nation Ireland. They meet in Yokohama on Sunday, 22 September with an 08:45 BST kick-off time. Also contesting their group are tournament hosts Japan, Russia and Samoa. The Eurasian country and Pacific Islands nation both had to qualify to reach the finals. Pool B has no Home Nations interest in it. However, a crunch clash between Rugby World Cup holders New Zealand and South Africa takes place early on in this group. You can catch that at 10:45 BST on Saturday, 21 September.
Up against the mighty All Blacks and Springboks are Six Nations whipping boys Italy, and qualifying pair Namibia from Africa and Canada of North America. England are drawn in Pool C and you can watch their Rugby World Cup opener against Tonga right after the Scotland v Ireland game at 11:15 BST on Sunday, 22 September. Key group fixtures against Argentina (Saturday, 5 October, 09:00 BST) and France (Saturday, 12 October, 09:15 BST) follow a match with the USA, who had to qualify for the tournament. Wales contest Pool D where their main opposition is Australia. That game is live on Sunday, 29 September at 08:45 BST. They also meet Uruguay, Fiji and Georgia, who received an automatic berth for the finals, in their Rugby World Cup group.
Once the Pool Stage has ended, the top two nations in each group progress to the knockout phase. The Rugby World Cup is then a single-elimination tournament through the quarter-finals, semis and final.
Image: REUTERS/Stefan Wermuth Picture Supplied by Action Images
---