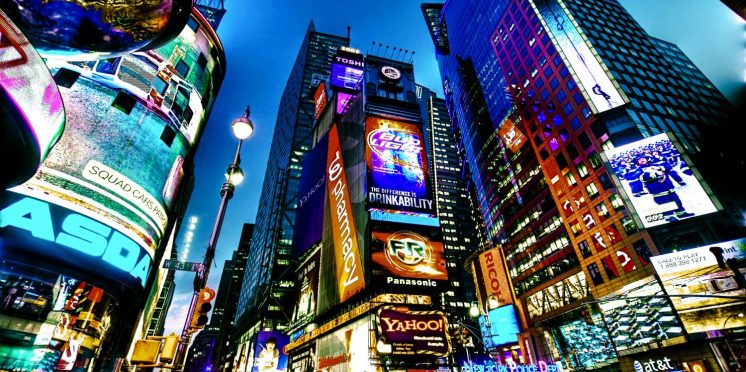 Teqball lights up Times Square
class="p1">
Friday 20th September 2019    
Teqball has gone from the football pitch to the bright lights of New York City, taking over Times Square – arguably the world's most iconic advertising space.
A video ad has been displayed on Times Square's giant electronic billboards promoting Teqball alongside DogPound, the internationally-renowned gym frequented by Hollywood A-listers and athletes, including the likes of Justin Bieber, Adam Levine and Victoria's Secret Angels.
DogPound is co-owned by György Gattyán, Teqball's co-founder and International Federation of Teqball (FITEQ) vice-president, with Hollywood actor Hugh Jackman also having a share in the franchise. With locations in New York as well as LA, the gym has become extremely popular, with A-listers across the USA flocking there each week.
"Times Square is one of the world's most visited tourist attractions and somewhere we've always aspired to be featured when it comes to increasing our brand awareness. It's a fantastic feeling to see Teqball and DogPound side by side with iconic brands like Coca-Cola, Toyota, Budweiser and Red Bull. In just a short space of time we've reached a point where we're able to invest in advertising opportunities like these as we look to continue growing our brand awareness in the US and beyond," said Mr Gattyán.
Times Square is estimated to draw roughly 50 million visitors per year, with around 330,000 people passing through on a daily basis.
Since its invention in Hungary in 2014, teqball has grown to be played in 66 different countries and achieved official recognition from the Olympic Council of Asia (OCA) and the Association of National Olympic Committees of Africa (ANOCA). FITEQ has a long term goal of seeing teqball included in a future Olympic Games across both the doubles and singles formats of the game.
A long list of stars from sport and entertainment have taken up teqball in recent years, including global star Justin Bieber. Brazilian legend Ronaldinho is also a famous Teqer and president of the Brazilian Teqball Federation, while the likes of Messi and Neymar have tables in their back gardens. Premier League clubs, such as Manchester United and Arsenal, have also embraced the sport in training as it helps players enhance their skills and ball control. João Felix, Jesse Lingard and Marcus Rashford are just some of the other high-profile names who have declared their love for teqball.
---