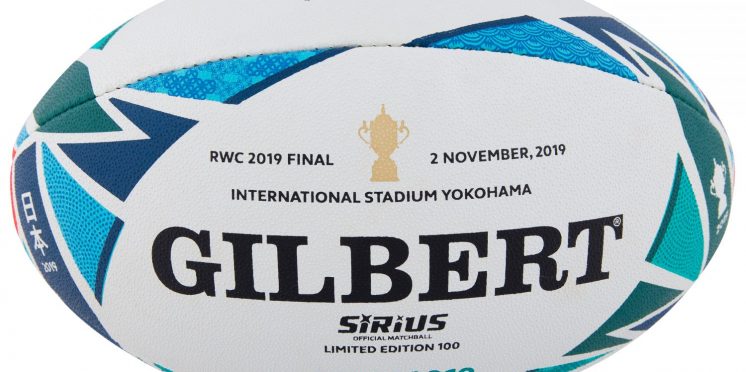 Gilbert produces limited edition collection of Rugby World Cup Final balls
Thursday 17th October 2019   
To celebrate the 2019 Rugby World Cup, Gilbert (the official RWC ball supplier) has produced a Limited Edition World Cup Final collection. The striking collection offers two limited edition Final balls, the Sirius Match Ball and the Replica World Cup Final ball, both of which display the final match date and location and will go on sale from 25th October.
Gilbert is thrilled to launch the limited edition Rugby World Cup Final ball.  100 of the Sirius match balls (which are the same balls being used in all World Cup matches) will be made available exclusively via www.gilbertrugby.com along with www.shop.rugbyworldcup.com and will go on sale 11.00am on 1st November.
Each limited edition ball will have the Rugby World Cup Final date displayed and come with a stunning display box and a signed numbered certificate.
Two years in the making, the SIRIUS match ball is an evolution in match ball technology. The 7th edition Gilbert Rugby World Cup match ball, SIRIUS takes many of the popular and successful characteristics of the current Match-XV international match ball, with key developments focused on increased handling. Step changes in the design of the grip pattern mean the SIRIUS offers the largest total surface area of any international match ball produced to date. These precision improvements create an exceptional rugby ball with greatly enhanced handling properties, yet one which is still familiar to the players.
Gilbert has produced 200 of the limited edition Rugby World Cup 2019 Final Replica Balls, which are exclusive to gilbertrugby.com and go on sale 25th October. The limited edition balls offer the biggest fans the chance to buy the perfect memento from the RWC Final.
As is on the Sirius Match Ball, the ball illustrates the RWC 2019 look and feel combining the traditional Japanese patterns with a contemporary rugby twist. The fractal spiral pattern across the ball ends with the polygonal representation of the sun on either end of the ball, ensures players have a key point of colour reference when rotating the ball.
It also consists of strikingly coloured geometric shapes that stand out well against the white background. Within the event mark and at both ends of the ball is the iconic RWC feature, which highlights Japan as the host nation and their fundamental involvement in the competition.
What makes this ball unique to the standard RWC 2019 Replica ball? Like the finals Sirius Final Match ball, this replica ball has the match date and location of the RWC 2019 final, along with an illustration of the Webb Ellis Cup in the centre of the ball – a unique feature exclusive to the final balls.
---