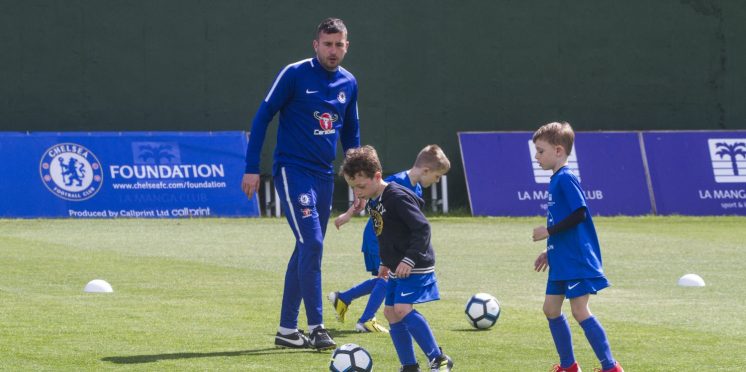 CHELSEA FOUNDATION SCHOOLS FLOURISH AT LA MANGA CLUB
Monday 21st October 2019   
Blue was definitely the colour at the five-star La Manga Club resort this summer, with bookings at Spain's only Chelsea FC Foundation Soccer School up by more than 50 per cent on last year.
Building on the success of its inaugural year, several hundred boys and girls between the ages of six and 16 from the UK and Europe took up the invitation to take part in the week-long academies in July and August.
Such has been their impact that plans are already being finalised for the soccer schools to return to La Manga Club for a third year running in 2020, with the academies set to take place from June 29 to July 17 and August 10 to 28.
Nick Montgomery, general manager at La Manga Club, said: "It's been great to see so many youngsters attend the Chelsea FC Foundation schools and they have really taken off since they were introduced at the resort last summer.
"Having the chance to be associated with the Chelsea FC Foundation is something that has tremendous appeal to our guests, and we're looking forward to welcoming even more aspiring footballers of all ages to the resort in 2020."
Available to boys and girls aged between six and 16, the school offers youngsters the chance to train using the same methods the Chelsea Foundation employs around the world.
As well as including up to three hours' daily training from the Foundation's team of expert coaches, all participants receive an official training kit of a shirt, shorts and socks, plus a certificate and medal after completing the course.
Prices for the 2020 schools start from €295 (approx £265) per person for a week-long training programme.
Boasting extensive facilities including eight FIFA-approved grass pitches, the resort is a popular choice as a destination for domestic and international teams seeking a warm-weather football training break.
In addition, La Manga Club is the official overseas training base of the Lawn Tennis Association (LTA) and offers unrivalled facilities as a sports and leisure destination including three 18-hole golf courses, a 28-court tennis centre and a 2,000sqm Wellness Centre. It also offers the choice of a five-star hotel, four-star serviced apartments and townhouses and more than 15 bars and restaurants.
For more details on the Chelsea FC Foundation Soccer School at La Manga Club, go to https://bit.ly/2ORzeuS
---