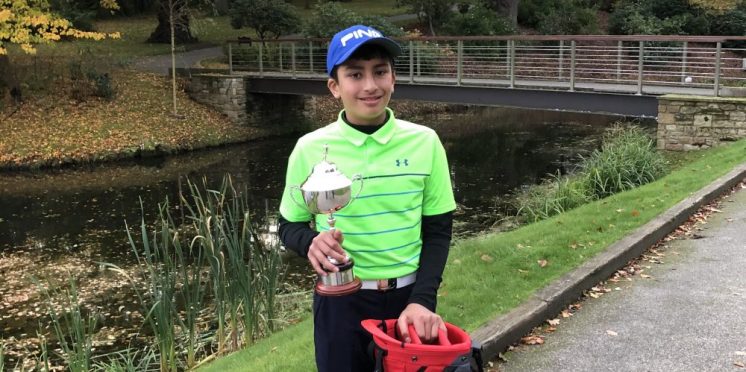 Future talent in full swing at Lookers sponsored Junior Masters
Friday 1st November 2019
It was time for young talent to shine at the Lookers sponsored Junior Masters, with Aaron Mohun of Delamere Forest, Cheshire, lifting the trophy at this year's tournament at Close House in Newcastle.
The win saw the 12-year-old year old secure a place in the prestigious British Masters Pro-Am in July 2020 at Close House, where he will get to share the fairways with the likes of Rory McIlroy, Lee Westwood, Danny Willet and Sergio Garcia in a full tour event.
The Junior Masters was the culmination of 7 Northern qualifying rounds, starting at Lancaster Golf Club in April and finishing at Bradford Golf Club in August.
While the temperature was a little cold, playing conditions were excellent overall for the 74 youngsters competing on the Lee Westwood Colt Course.
Aaron, competing in the U12 boys' category, took home the trophy by posting the highest net score of 68, while Sam MacDonald (Crossland Health) and Matthew Dale ((Middlesbrough GC) made up the winners of the Under 15s competition.
Elsewhere, winners of girls' competition were Sofia McGhie (Lancaster Golf Club) in the Under 12s competition, Izabella Knowles (Thirsk and Northallerton Golf Club) in the under 15s and Harriet Barker from Carus Green Golf Club in the under 18s.
It's the third year in a row that the motor retailer has sponsored the finals of the tournament alongside golfing brand Ping.
As part of the event, Lookers once again supported a programme involving more than 20 local schools, with Close House PGA professionals delivering coaching in schools and hosting festivals on the estate.
Close House managing director Jonathan Lupton said: "Congratulations to all our winners this year. Our aim at Close House is to nurture golfers from beginners through to the highest level and thanks to our sponsors Lookers and PING, the Junior Masters has become a key part in that progression for juniors of all ages."
Heike O'Leary, Lookers Group marketing director, said: "It is fantastic to see the PGA supporting grassroots golf by offering places at the British Masters Pro-Am, one of the most important golf events in the UK. Lookers has a history of supporting future talent and we look forward to seeing how far Aaron and the rest of the Junior Masters winners can go. Who knows, we may be witnessing the next generation of tour golfers."
---