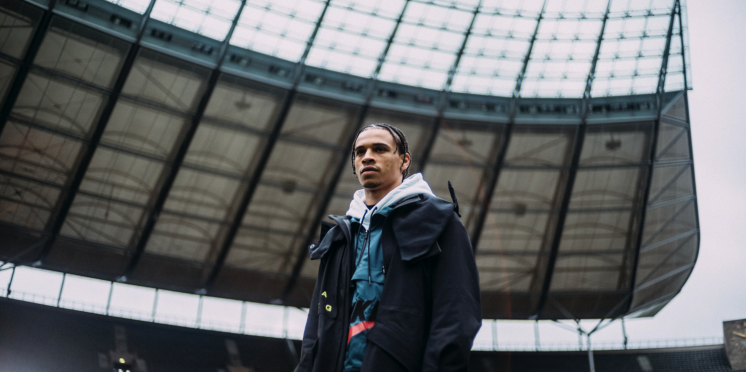 DU TUST ES NIE NUR FÜR DICH
Tuesday 5th November 2019
Nike launches first ever Just Do It-Campaign for Germany
Nike believes in the unique power of sport to move the world forward. Nike's mission
as a company is to bring the world together through sports, to strengthen active
communities, and to create equal opportunities for all athletes*. However, Germany
and many other countries are facing a challenge: kids give up any sporting activity at
an alarming rate. To make sport and play regain their importance, Nike dedicates the
new chapter of its Just Do It campaign, titled "Du tust es nie nur für dich" ("You
never do it just for yourself") to those communities and athletes that go beyond the
next goal or medal. The campaign portrays Germany's new heroes and their inspiring
stories.
* If you have a body, you're an athlete.

YOU NEVER DO IT JUST FOR YOURSELF
While many people see athletes winning and competing, Nike sees heroes, who help to advance,
enrich and inspire society.
When athletes like Léon Schäfer go beyond their limits, both physically and mentally, they do so
not just for themselves, but for a whole generation of athletes and an inclusive sports culture.
When a female boxer like Zeina Nassar fights in a hijab for the first time, she is not doing it for
herself, but for a whole generation of girls who dare to pursue their dreams. And when players like
Leroy Sané go their own way, they inspire a generation of kids who aim to leave their own footprint
on the world.
"Du tust es nie nur für dich" is a call for athletes everywhere, across all sports, and all levels of
play. We believe in a world, in which everyone can become a hero, leveraging the powerful
platform sport provides.
JUST DO IT, FEATURING GERMANY
For 30 years, the "Just Do it" mantra has been a motivational call for athletes everywhere, across
all sports, and all levels of play. This new chapter, launching on November 4th, 2019, focuses on
local communities and athletes in Germany. Featuring athletes who tell their own inspiring story,
the campaign represents this nation's diversity of sport.
"With 'Du tust es nie nur für dich' we are opening a new chapter for the Nike Brand in Germany,
celebrating sports," said Sebastian Niemeyer, Brand & Marketing Lead for Nike in Germany. He
adds: "For today's youth sport can have a greater meaning than simply competing and winning.
It's the power to unite, to inspire and to lead change in their communities that counts. Our
sporting heroes fuel this passion on the pitch or track and in communities to unlock sport for the
next generation of athletes. Sport becomes a catalyst and you never do it just for yourself."
Nike actively invests in local communities. Together with its partners "Bunt Kickt Gut" and the
"International Rescue Committee", Nike has been running the program "Berlin Kickt" for several
years now. At five schools in Berlin, a team of volunteer coaches works to educate children about
movement and to fuel their passion for sports and prepare them for a successful, self-determined
life. Further partnerships exist with Skatehalle Berlin ("Nike SB Shelter"), the street work
organization Gangway e.V. and the sports club Türkiyemspor Berlin 1978 e.V.
More information about Nike's community engagement is available at https://purpose.nike.com.
GET ACTIVE
On https://Nike.com/JustDoIt (available November 4), Nike is calling on all athletes to do sport
with a purpose. Consumers can use the NRC (Nike Run Club) and NTC (Nike Training Club) apps,
tracking their sporting activities, participate in sports challenges via social media and join various
sporting events from Nike partners. They are then invited to pledge their sports activities to one of
several initiatives, all aimed at creating new opportunities to do sport and make more time for
sport.
MAKE SPORT A DAILY HABIT
On "Just Do It Sunday", which will take place on November 10, 2019, Nike invites all of Germany
to get active and make sport a daily habit. Nike works with a large network of partners such as the
Berlin Football Association (BFV), the German Athletics Association (DLV), Classpass, the RSG
Group (operator of McFit gyms) and customers such as KICKZ, 11Teamsports, AboutYou, and the
fleet of Nike stores to provide access to sports and exercise throughout Germany.
A complete overview of the available events, including opportunities to register and participate,
can be found at https://www.Nike.com/de/just-do-it
All activations on "Just Do It Sunday" are available to all sports enthusiasts throughout Germany.
NikePlus Members also have access to additional benefits that can be unlocked through their own
physical activity and registration with the Nike Apps.
NIKE'S "HELDEN/HEROES" FILM
The campaign film "Heroes" introduces a new generation of German athletes who – as individuals
and in their teams – work hard to advance society. The campaign film portrays 16 heroes on their
individual path (please find a complete overview about all featured athletes below).
Nike worked closely with athletes, influencers, and partners of various sporting and social
backgrounds to make the campaign authentic, convincing, and relevant to different audiences and
communities. The Out-of-Home campaign also features the athletes' fans, friends and teams, who
are inspired and personally connected to our heroes.
ATHLETES & COMMUNITIES FEATURED IN THE CAMPAIGN
Zeina Nassar, Boxer, @zeina.boxer
Titles are nice, but for Zeina the real win is carving out space for the next generation of girls to
break beyond limits.
Giulia Gwinn, Footballer, @giuliagwinn
With her performance and behavior Giulia is giving women's football more visibility and inspires
other girls to believe in their dreams and do what they want to do.
Leroy Sané, Footballer, @leroysane19
If you win in doing the right thing in your own way, you pave the way for the next generation.
Léon Schäfer, T&F athlete, @leongabriel.s
Leon never takes "no" for an answer. He's taking life as it is and taking the best of it – inspiring
others to do so as well.
Mario Götze, Footballer, @mariogotze
For Mario Football is more than winning – never lose the mental game, if you beat doubts, you
beat opponents. Inspire others that it is sometimes a bumpy road to become a legend and it takes
more than goals.
Moe Wagner, Basketballer, @moritz_weasley
Moritz' fearlessness to take risks and step outside of the system inspires young athletes to take fun
and flair as seriously as they do skill.
Mobina & Melika Nazari, Skateboarders, Mobina @crazyburgersk8, Melika @melliguam
The sisters show how sport can help you to get back up on your feet.
Gesa Krause, T&F athlete, @gesa_krause
Gesa inspires us to believe in talent and to go after what you love no matter what others say or if
you go through tough circumstances ("Das Können schlummert oft lange in einem").
Ariclenes Garcia aka LaQuéfa St. Laurent, Dancer/Voguer, @laquefa_st_laurent
Ari adjusted his own life so he can invest all his money and time into building Future V and
offering weekly free workshops to queer refugees.
Yelmaz Habash, Tarek Almoukee, Nazir Jaser, Nabil Allahham, Cyclists
The power of sport gives these 4 heroes so much in life. Sport has kept them going (i.e. biking) no
matter how hard life is.
Türkiyemspor Berlin, Inclusive Football/Sports club, @turkiyemsporberlin
Winning is when everyone has the same right to do sports and be who they want to be. By taking a
stance in sport and in society, Türkiyemspor fights for 'one football' for all.
Alex Hipwell, Coach, @alexhipwell
She is leading the path to a modern understanding of body diversity through sports. Alex is
empowering and stepping up for women to encourage them to be proud of who they are.
---