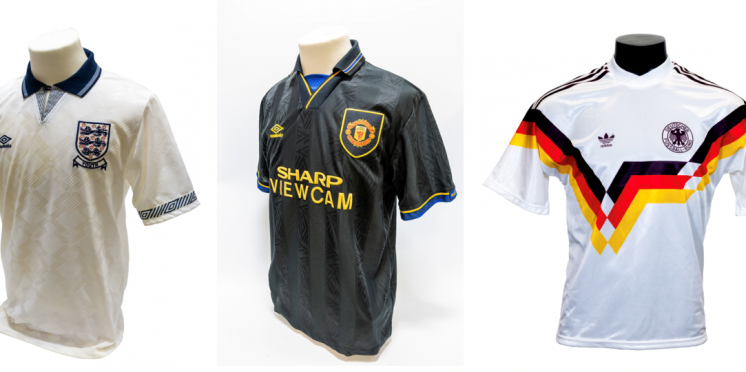 THE LARGEST CURATED EXHIBITION OF FOOTBALL SHIRTS EVER DEBUTS IN MANCHESTER
Sunday 10th November 2019
IT IS called 'Strip! How Football Got Shirty' – and it's coming to the National Football Museum on November 22nd.
This exclusive new exhibition unpicks the global fascination with football shirts and how they have influenced football culture, design, fashion and technology.
With well over 200 shirts on display, STRIP! is the largest curated exhibition of football shirts ever assembled in this country.
It will examine how football shirts have developed from mere kit to genuine objects of desire, looking at the design of the football shirt, from the functional to the aesthetic, influential designers and manufacturers and the rise of the football hipster, as well as detailing iconic shirts and shirt disasters.
Shirts from the museum's own collection will be on display, alongside loans from Classic Football Shirts, kit manufacturers including Adidas, Admiral, Hummel and Umbro, specialist collectors and enthusiasts and football clubs. It will also feature interviews with designers including Jürgen Rank, Senior Design Director at Adidas (who is overseeing the design of their Euro 2020 range) and Bert Patrick, formerly of Admiral and credited in 1974 with pioneering the replica shirt industry with the first commercially available England shirt.
Shirts created as high fashion items will also feature including those by cult label Fokohaela, designers Christopher Raeburn and Yohji Yamamoto and Dutch streetwear brand Patta.
Illustrator Mark Johnson will be designing shirt mash-up collage terrace banners to complement the exhibition and John Devlin, designer and author of the True Colours book series, is acting as a consultant.
Jon Sutton, National Football Museum's lead curator for the exhibition, said: "Football shirt culture has become a huge phenomenon and has devotees across the world. While fans will still buy a shirt to show support for their own team, there is a huge interest in international sides, special editions and a nostalgia for classic designs of the past.  Fans will obsess over the details of colour combinations, placement of logos and even the sponsors of the shirt.  While many of the shirts on display will be remembered with affection there will also be a few disasters in there too!"
"We're sure this exhibition will appeal to anyone with an interest in design, fashion and technology."
To coincide with the launch of the exhibition the museum has collaborated with Manchester-born artist and illustrator Stanley Chow on a newly commissioned National Football Museum shirt, manufactured by Nottingham based brand PlayerLayer The shirt made from 50% bamboo charcoal, will be worn by staff, with a limited number available for sale at the museum shop.
Iconic shirts on display will include England's home Umbro shirt as worn by the Three Lions at Italia '90, Brazil's classic 1970 World Cup shirt as worn by Pele and West Germany's 1988-1990 designed by legendary Adidas designer Ina Franzmann.  Kit manufacturers involved with the exhibition include Adidas, Admiral, Hummel, PlayerLayer and Umbro.
The 'first 11':
England's iconic home Umbro shirt as worn by the 3 Lions at Italia '90. With double diamond patterns in the fabric and the famous Umbro branding taping on the collar and sleeve, this shirt perfectly blends tradition and abstract.
Brazil's classic 1970 World Cup design shirt as worn by Pele. Probably the most famous shirt of all-time, Brazil's green and gold is both romantic and intimidating.
Admiral shirts from the 1970s.  Admiral kick started the replica shirt boom by working with leading English clubs and the England national team. By the following decade all the other kit manufacturers had jumped on the bandwagon.
West Germany's iconic 1988-1990 Adidas shirt, designed by legendary shirt designer Ina Franzmann, combining the brands three stripes and the German national flag. Various versions of this design were used as a template by other clubs including Cork City and Palestino of Chile.
Manchester United's black 1993-95 Umbro away shirt. When the Premier League changed referee colours from black to green, this was one of the first black shirts to be worn by an English club. This design is also famous for being worn by Eric Cantona when he did his infamous kung-fu kick at Crystal Palace in 1994-95.  Was also worn by Manchester United Ladies team before the club was dissolved.
1874 Northwich Victoria's 2019/20 away shirt designed by illustrator Phil Galloway, incorporating elements of the town into a daring bold design. The shirt has raised the profile of the club and seen them receive orders from football shirt geeks across the globe.
1991-92 England Women's Ribero shirt featuring a snazzy, left-field pattern design which seemed to borrow from cycling tops. At this point the WFA organised women's international football and the team had a strip unique to them which would change when the FA took over in 1993.
Diego Maradona's Barcelona shirt from 1983-84, a simple design by Barcelona sports brand Meyba features chunky stripes that allows the clubs colours to shine through.
Forest Green's 2019/20 PlayerLayer shirt, made from 50% bamboo charcoal, a first in football shirt manufacture. PlayerLayer has also teamed up with NFM to produce a unique Stanley Chow designed shirt made from the same material. The shirt will be worn by NFM staff.  Environmentally friendly elements are being increasingly incorporated into shirt manufacture, including Hummel's H20 free shirts (will also be on display).
A number of futuristic rave inspired shirts from the late 80s/early 90s when fashion from the dancefloor captured the imagination of designers who were given a free reign in designing innovative shirts. Initially hated, they are now revered by football shirt connoisseurs
The world of fashion is becoming increasingly inspired by football shirt design. Fokohaela mix fashion and sport with a heavy dose of irony. The name Fokohaela comes from the German "Vokuhila", an amalgamation of "vorne kurz hinten lang" meaning "front short back long" – in other words a mullet.
---