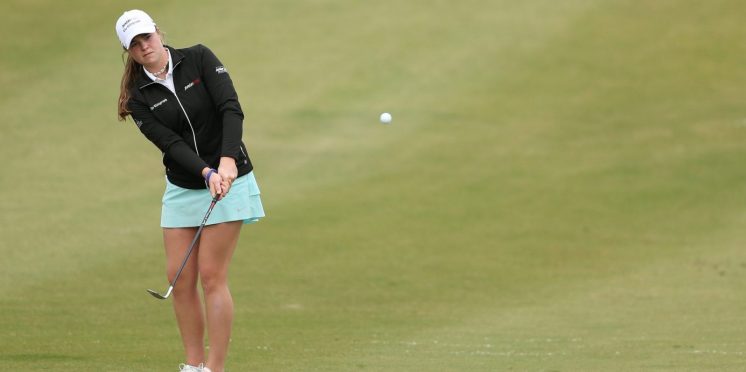 SOMERSET SISTERS REVEAL FAMILY INSPIRATION AT QUINTA DO LAGO
Saturday 16th November 2019
Somerset sisters Mimi and Patience Rhodes will not just be playing for the sizeable honour of winning the Justin Rose Telegraph Junior Golf Championship title when the final round gets underway at Portugal's Quinta do Lago resort, but also for their grandmother, Susan.
"We want to do this for her," Mimi said. "She has terminal cancer and has really been going through it. But when we both made it here for these finals she was so happy. She loves golf and is a big reason why we play this sport. Imagine if we could finish first and second? My gran would be in tears for sure."
After 36 holes, Somerset's Mimi is sharing the lead on eight over alongside Aberdeenshire's Carmen Griffiths.
South Glamorgan's Darcey Harry is on nine over following a 73, the same mark as Royal Mid-Surrey's Rafiah Banday after a 78. Then come Patience and Jess Baker, joined by Evanna Hynd on 11 over.
Patience's 70 stood out on a day when this wonderful Quinta do Lago North Course bared its teeth – Justin Rose termed the conditions as "extremely challenging". The drizzle came down, the temperature dropped and the gusts were strong, yet the Wedmore teenager bettered her opening round by 14 shots. She began the second round 13 off the pace but now has only a two-shot deficit.
"I found something on the range yesterday afternoon and my putting was much better," said Patience, who is a member at Burnham and Berrow Golf Club with her sister. "It should be fun in the next round, especially with Mimi up there."
On seven under, Brabazon Trophy winner Ben Schmidt is nine ahead of his nearest pursuer in the boys' event, Jacob Kelso, the Kent teenager who shot a 74, with Edinburgh's Cameron Adam and Devon's Craig Passmore a stroke behind. While Schmidt's opening 68 was impressive, his 69 verged on the remarkable in the testing conditions.
Rose was dazzled. "I was told Ben was one to watch and he definitely is. I can see why he is ranked in the top 10 in the amateur rankings. This is obviously his to lose, but having a big lead brings its own pressures. He doesn't seem like a character to be ruffled, however."
Schmidt, 17, of Rotherham Golf Club, said: "I won't let myself think I've already won it. I will go out with the same game plan and same attitude to try to score the best number I can."
The Justin Rose Telegraph Junior Golf Championship, which is supported by the R&A, European Tour Foundation and England Golf, is open to any juniors aged under-18 at midnight on January 1, 2019, with the finals set to be televised by Sky Sports later this year.
Located just 15 minutes away from Faro airport, Quinta do Lago is renowned among Europe's elite golf, sports and family destinations and, with a combination of world-class golf and lifestyle facilities, is the perfect choice for a sporting break.
As well as three 18-hole championship golf courses – the North, South and Laranjal – and outstanding practice facilities, guests can stay in shape at the state-of-the-art performance centre The Campus, a world-class sports hub designed for professionals and amateurs alike to keep fit.
Complementing Quinta do Lago's golf facilities is a choice of 13 first-class bars and restaurants that deliver a range of delicious world cuisines – including the acclaimed Bovino Steakhouse and recently-opened Dano's Sports Bar & Restaurant – with accommodation on offer at the resort's recently-acquired boutique The Magnolia Hotel.
For more details on the Justin Rose Telegraph Junior Golf Championship and for the 2019 final latest scores, go to www.telegraph.co.uk/juniorgolf
www.quintadolago.com
SECOND ROUND LEADERBOARD
Boys
| | | | | |
| --- | --- | --- | --- | --- |
| NAME | ROUND 1 | ROUND 2 | ROUND 3 | TOTAL |
| Ben Schmidt (Rotherham GC) | 68 | 69 | | 137 |
| Jacob Kelso (Kings Hill GC) | 71 | 74 | | 145 |
| Cameron Adam (Royal Burgess Golfing Society) | 73 | 73 | | 146 |
| Craig Passmore (Torquay GC) | 72 | 74 | | 146 |
| Max Hopkins (Bishops Stortford GC) | 75 | 72 | | 147 |
| Aaron Marshall (Lisburn GC) | 76 | 72 | | 148 |
| Henry Hayward (Kedleston Park GC) | 79 | 72 | | 151 |
| Hugh Adams (Hagley GC) | 72 | 79 | | 151 |
| Rhys Wallace (Handsworth GC) | 76 | 77 | | 153 |
| Oscar Fuente (Bearwood Lakes GC) | 79 | 76 | | 155 |
| Miles Gray (Etchinghill GC) | 77 | 80 | | 157 |
| Calvin Holmes (Quinta do Lago) | 83 | 85 | | 168 |
| | | | | |
| | | | | |
| Girls | | | | |
| | | | | |
| NAME | ROUND 1 | ROUND 2 | ROUND 3 | TOTAL |
| Carmen Griffiths (Aboyne GC) | 75 | 77 | | 152 |
| Mimi Rhodes (Burnham & Berrow GC) | 75 | 77 | | 152 |
| Darcey Harry (The Vale Resort) | 80 | 73 | | 153 |
| Rafiah Banday (Royal Mid Surrey GC) | 75 | 78 | | 153 |
| Patience Rhodes (Burnham & Berrow GC) | 84 | 70 | | 154 |
| Jess Baker (Gosforth Park Ladies GC) | 73 | 81 | | 154 |
| Evanna Hynd (Lundin Links GC) | 76 | 79 | | 155 |
| Rosie Belsham (Whitley Bay GC) | 81 | 77 | | 158 |
| Lily Hirst (Woodsome Hall GC) | 84 | 81 | | 165 |
| Roisin Scanlon (Bedfordshire GC) | 84 | 83 | | 167 |
| Chloe Haesler (Broadstone GC) | 89 | 79 | | 168 |
| Grace Rigby-Walden (Gerrards Cross GC) | 92 | 85 | | 177 |
---