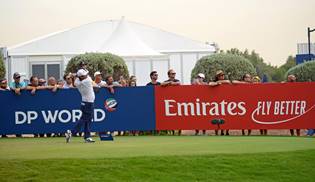 Emirates hits the long drive
Sunday 24th November 2019
The airline is set to kick off another year as the Official Airline of one of the largest events in Dubai's sporting calendar, taking place from 21 to 24 November 2019
Emirates will be teeing up for another exciting year of DP World Tour Championship 2019 – one of the largest sporting events in Dubai. This is Emirates' 10th year supporting the tournament, bringing international golf players together to Dubai to contend in the season long "Race to Dubai" finale. The DP World Tour Championship 2019 is set to take place from 21 to 24 November at the Jumeriah Golf Estates.
Boutros Boutros, Emirates' Divisional Senior Vice President, Corporate Communications, Marketing and Brand said: "We are thrilled to be marking our 10th year of sponsorship. This tournament not only provides a strong platform for international golf players to compete at the season ending event of the European Tour, but has also allowed us to engage with golf fans in our home base of Dubai. The city has become one of the leading golfing destinations in the world and we look forward to continue supporting this world-class tournament."
Since 2009, the airline has carried more than 600 international golfers to Dubai, bringing together more than 180,000 golf enthusiasts to watch the exciting tournament.
As the Official Airline sponsor, Emirates continues to have strong on-site branding at the tournament, ticketing rights, and branding at the Trophy presentation. The airline will activate its sought-after hospitality chalet, welcoming VIP visitors and golf players for a world-class experience across all four days of the tournament. Emirates will also engage with young golf fans on-ground through sponsoring the Children's Area. Emirates Cabin Crew will be offering children branded polaroid frames and Emirates "Fly With Me" mascots to take home as memorabilia.
Emirates is a staunch supporter of golf and the Official Airline sponsor of 24 golf events worldwide. The airline sponsors a number of events across the European Tour, including the BMW PGA Championship, the Nordea Masters, the D+D Real Czech Masters, the Aberdeen Standard Investments Scottish Open, the Portugal Masters, the Italian Open, the Joburg Open, and the BMW SA Open hosted by the City of Ekurhuleni
---