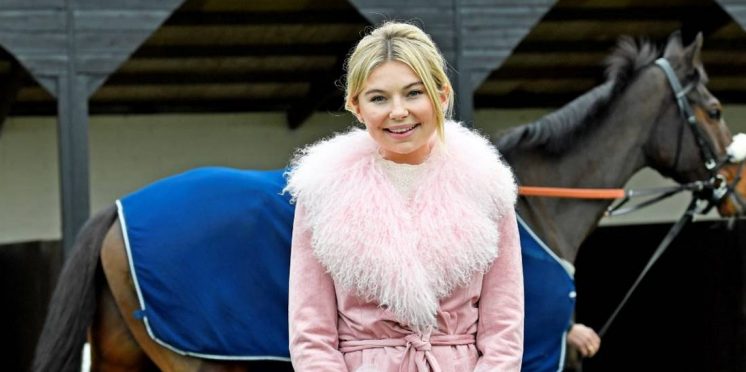 Georgia Toffolo visits Huntingdon Racecourse for Winter Ladies Day
Sunday 23rd November 2019
TV personality Georgia Toffolo attended Huntingdon Racecourse for their Winter Ladies Day today, Saturday 23rd November, completing her role as Great British Racing's Roving Reporter.
Taking over the Great British Racing Instagram channel for the sixth time this year, Georgia went behind-the-scenes for the first time at a Jump meeting capturing action on and off the track before performing a DJ set after racing.
The 25-year-old TV star began her day by meeting young female trainer Amy Murphy 26, whose contender Logan Rocks who won the Gravitas Magazine Maiden Hurdle. Georgia followed the preparation of a racehorse on a raceday with Murphy before going on to meet Clerk of the Course Jack Pryor. Ahead of the action Georgia walked the course with jockey Jack Quinlan (also 27) who rode Logan Rocks before judging the Huntingdon Style Awards.
Discussing her day, Georgia said: "Today was the final part of my 2019 racecourse tour as Great British Racing's Roving Reporter, and what a fantastic way to finish. Seeing the preparation that goes into these wonderful animals for a raceday was so interesting. To then see Logan Rocks win the race was amazing.
"I have enjoyed every minute of being a Roving Reporter. Each racecourse has been super accommodating and I have learned so much about this brilliant sport and all the important roles within it."
The excitement will continue after racing with Georgia performing a DJ set following her DJ performance at Hamilton Park Racecourse in August.
Georgia has visited six racecourses this year as part of her role with Great British Racing (Goodwood, Hamilton, Newbury, York, Doncaster and Huntingdon) highlighting the many aspects of an action-packed day at the races.
Huntingdon Racecourse has a further two meetings this year, The Fitzdares Peterborough Chase on 8th December and The Mansionbet Boxing Day at the Races on 26th December.
Horse racing is the second biggest spectator sport in the country, with six million people attending each year. As well as top class sporting action, a day at the races is the perfect opportunity to get dressed up and enjoy a day out with friends and family.
For more information visit www.greatbritishracing.com.
Image credit: Great British Racing
---