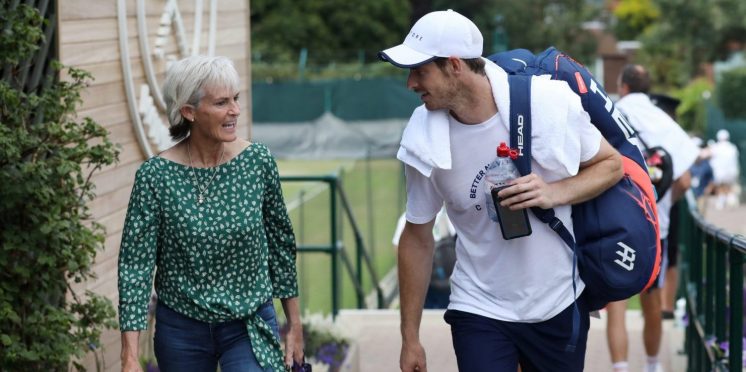 'Massive honour' for coach Judy Murray to win Lifetime Achievement gong
Monday 25th November 2019
Judy Murray OBE has been announced as the winner of the Lifetime Achievement Award for this year's UK Coaching Awards, which will take place at The Tower Hotel London on the 5 December.
The award will be presented to the 'Miss-Hits' founder on the evening of the prestigious event to recognise her achievements through a lifetime dedicated to coaching.
The sheer scope of Judy's impact across a distinguished 30-year coaching career is impossible to quantify. A role model and global ambassador for women's tennis, Judy is a key influencer in coach learning, participation and player development.
Instrumental figure in the development of British number ones
A former Scottish international tennis player, Judy started her coaching apprenticeship as the lone volunteer coach in her home town of Dunblane. She rose quickly and was one of the first women to pass the LTA Performance Coach Award, the highest-level LTA qualification. She went on to become British Fed Cup team captain and in her role as Scottish national coach, she was an instrumental figure in the development of numerous British number ones, including Jamie Baker, Elena Baltacha, Colin Fleming, Alan Mackin and, of course, the early careers of her sons Andy and Jamie.
The 60-year-old is well-known for her person-centred coaching and has been passionate about making tennis inclusive for everyone, whatever their background and no matter their ability. At the forefront of innovation, she has developed several highly successful tennis programmes, which have helped raise the profile of female coaching and accelerated positive change for women's tennis at grass-roots level and beyond.
More opportunities for females to play tennis in the UK
Judy has spent the last eight years investing her own money and time into the starter tennis programme for girls, Miss-Hits. It has now been delivered to tens of thousands of girls around the world, helping increase female participation in tennis.
Judy has also shaped coach learning structure and influenced coach development opportunities in Britain and around the world. The She Rallies programme – developed with the LTA – has created more opportunities for females to play tennis in the UK, while her Tennis on the Road programme is aimed at growing the coaching workforce that delivers tennis. She launched The Judy Murray Foundation in 2018, the mission of which is to raise money to bring tennis into areas of Scotland that are not synonymous with tennis, such as rural and disadvantaged inner-city communities. Thanks to her relentless drive and boundless energy, Judy has succeeded in creating a road map for the future success of the sport.
Judy Murray said:
"It's a massive honour for me to be given a Lifetime Achievement Award by UK Coaching. I've been coaching for almost 30 years now, having started as a volunteer at Dunblane Sports Club when my kids were toddlers. I've experienced every step of the coaching journey from local community club right up to Grand Slams, Olympics and Fed Cup, so I understand the importance of having great coaches at every stage and every level of the game.
"I also understand the importance of sharing ideas, experiences and philosophies with others and across sports. The easiest and quickest way to become good at what you do is to work alongside people who have been there and done it. For the past few years, I have spent most of my time building tennis workforces around the world because I realised I could have a much longer term impact on tennis if I went back to grassroots and invested in others.
"Sport is competing with so many things for people's time and attention these days that it's vital that we create environments that are fun and stimulating. People make environments, and first impressions are crucial, so my main focus with workforces is aimed at delivering a number of starter programmes for kids, teens or adults.
"My philosophy is all about creating games and exercises that do the teaching for you because I learned from bringing up my own kids that they don't want to listen to you, they just want to play with you. That's why I say skills before drills. And make it fun so they want to come back – no matter what age or stage they are."
LTA CEO Scott Lloyd said: 
"Congratulations to Judy on behalf of everyone at the LTA and all involved in tennis in Britain.
"We're hugely proud of everything she has achieved, not only as a coach herself, but also the impact that she has had inspiring other coaches in communities across the country. She continues to be a driving force for engaging women and girls – dedicating time, energy and passion to help grow our sport. I've known Judy for long time and there is truly no one more deserving of this award."
UK Coaching's CEO Mark Gannon said: 
"Judy's wide impact on the people and the communities she has coached and continues to coach is remarkable.
"Her energy for coaching is truly infectious, and the times I've seen her in action the outcome is always the same, she makes sport and physical activity fun for her participants.
"The award itself is a token to say that all her hard work over three decades hasn't gone unnoticed.
"Her selfless attitude towards others fits in with our belief that great coaching, and indeed, great coaches are a force for good in our communities – tackling inactivity; improving health, and playing an essential part in improving the lives of millions. Is it any wonder that she's helped nurture some of the nation's best tennis players and future coaches?
"Many congratulations Judy, here's to you."
The UK Coaching Awards honour #GreatCoaching from people and organisations, and demonstrates the role coaching plays in transforming lives and inspiring an active nation. Find out more about the Awards and this year's finalists by heading to UKCoaching.org/coachingawards
Image courtesy of: REUTERS/Hannah McKay
---