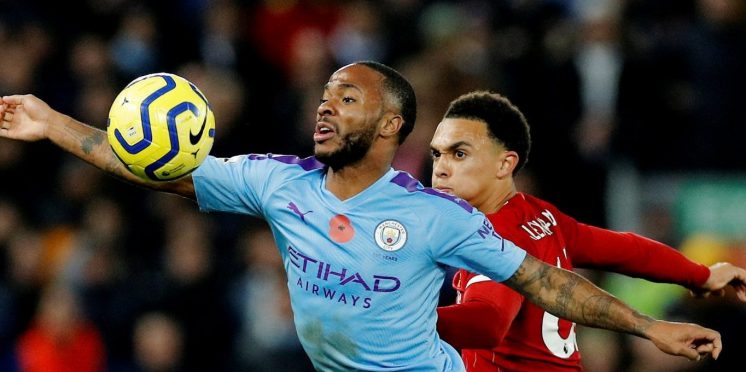 2020 Premier League fixtures to look forward to
Sunday 15th December 2019
Amy Tompkins – UCFB Wembley
As 2020 is quickly approaching there are some exciting fixtures to look forward to. When we enter January there will just five months left to enjoy your favourite club play in the Premier League matches. Will Liverpool claim the league? Or will Manchester City pull it back and claim to win their third successive title? So, let's look into some of the best fixtures that are ones to watch.
New Year's Day – Wednesday 1st January 2020.
On January 1st the majority of the Premier League play (except for you Liverpool fans, Liverpool play Sheffield United at home 8pm on the Thursday 2nd of January 2020.)
Brighton vs Chelsea – 12 Noon KO on BT Sport
The first match of New Year's Day kicks off with a Brighton vs Chelsea fixture. Chelsea travel down to the American Express Community Stadium to play a midday fixture. Brighton haven't beaten the blues in a top flight fixture since 1933, could this be a good start to the new decade for the Seagulls?
Arsenal vs Manchester United – 8PM KO on BT Sport
 The final match of New Year's Day arrives at the Emirates Stadium as Arsenal play Manchester United at home. At this current moment, The Gooners are struggling to stay above 10th position as they have only won one Premier League game since the 22nd of September. Whereas Manchester United have been playing steady, they position themselves at 6th, but they also have been struggling to keep in the top five. This game is something to look forward to, as you're winding down after your New Year's Day meal. See who will be victorious in this competitive match.
Spurs vs Liverpool – Saturday  11th January 2020 17:30PM KO
Tottenham Hotspur travel up to Anfield to face an afternoon fixture, *league leaders Liverpool haven't lost against spurs in the Premier League since 2017. This is a big fixture for the Merseyside team to keep their winning run on for a while longer, see if they can finish the season being Premier League Champions.
Chelsea vs Arsenal – Tuesday 21st January 2020 20:15pm KO
Another big game for 2020 finds London rivals, Chelsea travel to North London to face Arsenal. These two are known for their big rivalry without even being in the same side of London. In their previous meeting it was the UEFA Europa League final, where Chelsea dominated the game, winning 4-1. This game will be a chance for the Gooners to take revenge on the blues to get back to winning ways.
Leicester vs Manchester City – Saturday 22nd February 2020 15:00pm KO
Leicester travel to Manchester to play third* place team, Manchester City. The two huge sides battle it out in the top 4 for Champions League places, Manchester City who won the Premier League last season is off the top by seven points, this game will prove to be a big fixture to see which direction the top four will be heading.
Everton vs Liverpool – Saturday 14th March 2020 15:00pm KO
A Merseyside Derby, a big game for Liverpool and Everton to play. Everton travel to Anfield to play the league leaders* for a well-known derby, in all their meetings Everton last won at home to Liverpool in 2010 with a 2-0 win. Can Everton be the underdogs and come on top? Or will Liverpool continue their winning streak? Let's sit back and watch this big match unfold on the 14th of March for a 3pm kick off.
Norwich vs Southampton – Saturday 14th March 2020 15:00pm KO
Recently promoted Norwich have had a hard time avoiding the relegation zone so far*. This season, they have played 17 games and only won three of the meetings leaving them currently fighting against relegation in 19th position, the same goes for Southampton. Southampton are currently in 18th position, just edging the relegation zone on 15 points*. This meeting will be one to look out for to see who will end up in Championship or who will end up staying in the Premier League.
Manchester City vs Liverpool – Saturday 4th April 2020 15:00 KO
This is one of the biggest matches to look out for, the main league competitors Manchester City vs Liverpool. For the final meeting of the two in the 19/20 season, this game will take place at the Etihad for a 3pm kick off, currently* at the time of creating this article there isn't a confirmed place where this game will be broadcasted. The two competed for the league last season which ended with Manchester City stealing the league just by one point. Liverpool ended up winning the Champions League. This season, Liverpool and fighting as much as possible to claim this year's league title. This is not one to miss.
FINAL DAY OF THE SEASON Sunday 17th of May 2020 – All 15:00pm KO
17th of May is the day to decide the final standings of the 19/20 season, decide who wins the league, who gets a champions league position, who gets Europa position and who gets relegated to Championship. Teams to look out for the title: Manchester City, Liverpool, Leicester and Chelsea top four teams* will battle it out to grab the Champions title. Will Arsenal end up even getting Europa League place? With the sacking of their Manager Unai Emery, they've had a bad form up to Christmas time, will they bring it back? Teams battling it out for relegation*:  Southampton, Aston Villa, Norwich City and Watford, it's not looking good for these bottom three teams with low points at Christmas time in the season. Watford who have only won one game out 17 games so far, newly promoted Norwich City are sitting on 12 points and Southampton who are drawing with also newly play-off winners Aston Villa on 15 points. Will Aston Villa and Norwich find themselves back in the Champions league? Will Watford find themselves there for the first time since 2015, or even Southampton who haven't themselves been out of the Premier League since 2012.
*all positions are correct at the time of posting.
Dates and timings are subject to change
Photo: REUTERS/Phil Noble
---