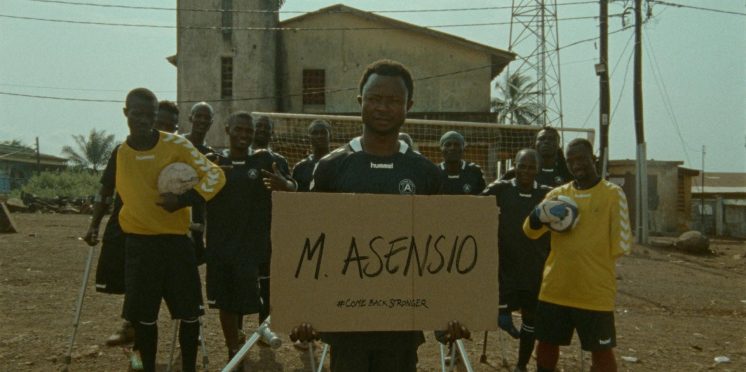 Injured European football-stars receive heartfelt support from an unexpected source
One of the most inspiring stories in football this holiday season comes from an unlikely place: Sierra Leone, Africa.
In a new campaign by the humanitarian organisation FANT (Football for a new tomorrow), an amputee football team from Sierra Leone sends a heartfelt message of support to some of the football superstars who have been side-lined this season due to severe injury.
See the film here: https://youtu.be/m2YFm4X7HUs
The Flying Stars is a football team from Freetown in Sierra Leone with players who are all amputees. Many of these injuries stem from the civil war in Sierra Leone, considered one of the African continent's most grim and bloody.
For years, those injuries kept the players from doing what they love the most: To play football.
But in the end, their love of the game gave them the strength to work their way back on the pitch.
With a daily life that is full of adversity and hardship, football gives the players a strong sense of purpose and community – both when playing as a team and when following their heroes in the big European leagues.
That is the message from the Sierra Leoneans to the players around the world who are currently fighting to get back on the pitch: Never give up, because it is always possible to come back stronger. No matter if you are playing for a small team in Sierra Leone, or if you are playing professionally in the Premier League.
Among the injured players who receive a greeting of encouragement from The Flying Stars is Juventus legend Giorgio Chiellini, Real Madrid star Marco Asensio, Man City's winger Leroy Sané, and Everton's Portuguese international André Gomes. Gomes – the latest to join the list of injured players – suffered a horrific ankle dislocation during the Toffees game against Tottenham.
The campaign objective is to raise awareness of FANT's humanitarian work in Sierra Leone.
Through the establishment and operation of sports associations, the organization creates development and change.
"Everyone in Sierra Leone is absolutely crazy about football, but everything in connection to football was and is extremely unstructured and unorganized. That is what we are working to change, while also creating a better understanding of democratic principles, human rights, women's rights, and disabled's rights through educational workshops."
Says Cecilie Hauerberg, Founder of FANT.
You can support FANT and the Flying Stars by donating at fant.dk/comebackstronger
---