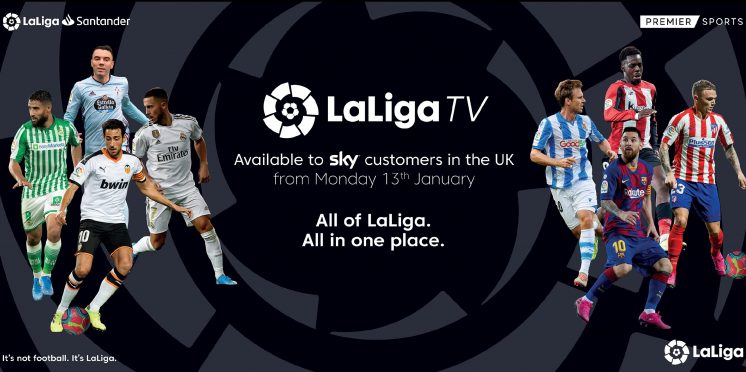 LaLigaTV makes its debut on UK television
New 24/7 channel now available to SKY residential and commercial subscribers on Channel 435
· New linear standalone channel offers "All of LaLiga, All in one place", including broadcast of all available LIVE matches and 24/7 coverage of Spanish football
· Channel to be officially presented at launch event this Wednesday in London featuring LaLigaTV talent and special guests Javier Tebas and Mauricio Pochettino
· In a special intro offer, LaLigaTV to be provided FREE of charge to all 8.5M SKY TV subscribers across the UK during two full LaLiga Santander matchdays in January
· LaLigaTV is the UK's first dedicated channel offering ALL live content from a top global football competition, broadcasting in full HD for just £5.99 per month
LaLigaTV, the UK's first dedicated channel showing all live content from a top football league, has launched today.
The channel is available to all SKY TV subscribers, who can access the channel free of charge for two full LaLiga Santander matchdays through January 28th. Available as a standalone channel via SKY TV, LaLigaTV offers exclusive broadcast of all live matches to viewers in the United Kingdom.
Following the initial two-week free trial period, the channel will be available to SKY TV subscribers for just £5.99 per month as a standalone HD channel, or £11.99 per month when purchased in a Premier Sports bundle which includes Premier Sports 1 and Premier Sports 2 HD channels.
To officially launch the channel in the UK, LaLiga and Premier Sports are hosting an exclusive event on Wednesday 15 January at Shoreditch's Village Underground in East London.
Special guests including LaLiga president Javier Tebas and former LaLiga player and manager Mauricio Pochettino will be in attendance to provide further insight into LaLigaTV. They will be accompanied by LaLigaTV talent and Spanish football experts Guillem Balagué, Semra Hunter, Gus Poyet, Simon Hanley and Graham Hunter.
---