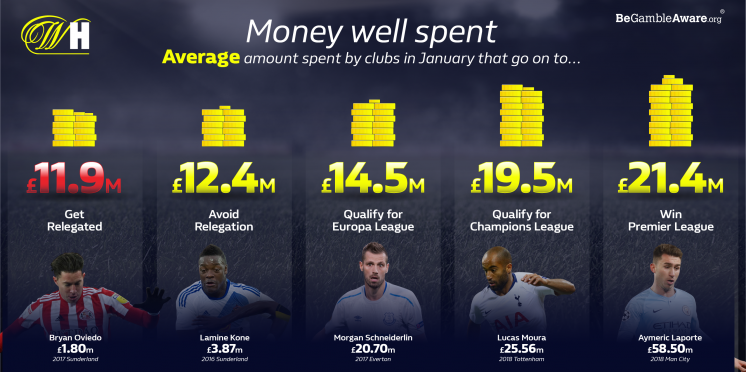 Premier League basement boys must spend £12.4 million to avoid relegation
William Hill research reveals how much it costs in January to win the title, secure Champions League and beat the drop
It pays to spend in January, according to research from William Hill, who have calculated that the average amount of money clubs must splash out in January to avoid relegation is £12,374,000.
The research, based on Premier League clubs' spending over the past five years, reveals that teams spend £908,329 on average for each point secured after the winter window has slammed shut.
And while the league's basement boys need to splash out an average of nearly £12.4 million to beat the drop and finish 17th, the clubs that have been relegated over the past five years haven't been paying out enough on players in January, with the average amount spent by these sides totalling £11,940,067.
When it comes to clubs bidding to qualify for Europe, it costs sides £19,461,900 on average in January to seal a Champions League spot come May, while teams seeking a place in the Europa League need to spend an average amount of £14,497,733 in the winter window.
Clubs chasing title glory, meanwhile, are required to spend an average amount of £21,438,000 in January to lift the Premier League trophy.
Over the last five years, 77% of all Premier League clubs have opened the cheque book in January, though only 28% of clubs have gone on to improve their league position after spending in the winter transfer window.
Some 39% of clubs have gone on to slip further down the Premier League table after spending in January, while 33% have remained in the same league position after splashing the cash.
And 54% of the clubs that have spent money in January over the last five years have also failed to secure more points per game on average after the closing of the window than before it.
Rupert Adams, media relations at William Hill, said: "There's always talk of whether or not it's worthwhile for clubs to open the cheque book in January and if money is well spent or just another panic buy.
"Our research suggests that it is indeed worthwhile splashing the cash in the winter transfer window, no matter whether your club are aspiring for the title, a place in Europe or seeking to beat the drop.
"However, what it also proves is that spending money for money's sake in January can also have the adverse effect, given only 28% of clubs have gone on to improve their league position after making new singings in the winter window over the past five years. Clubs must use the January transfer window wisely."
---